Wrought Iron Fences
---

Wrought Iron Fence Professionals: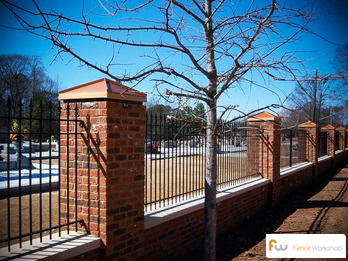 When only the highest quality and most durable fencing will do for your residential or commercial property, Fence Workshop™ offers wrought iron fencing that is custom welded to specification and available in all sizes, styles and designs. You've taken the greatest care with the design elements everywhere else on your property and in your home or business; why would you do anything less with your fencing? Ornamental and beautiful, our wrought iron fencing is the perfect addition to achieve the highest degree of sophistication and lasting style for your property.
Building Wrought Iron Fences For Any Situation:
Fence Workshop™ supplies wrought iron fences throughout the Southeast. Our wrought iron and metal fences are not just beautiful to look at; they add security and value to any outdoor property. Pairing your wrought iron fencing with a brick or stone masonry wall makes a long lasting and gorgeous addition to any backyard.
Custom Built and Built to Last:
We supply a large variety of wrought iron fences to match any desired style or design. These highly permanent fences can and will last for hundreds of years! We custom weld these fences for historic areas, cemeteries, residential home owners, business, industrial areas, neighborhood entrances and more.
Building Iron Fences
Along with custom welding our iron fences, we match them with brick or stone columns and knee walls to go along with them. After determining a style or design, our wrought iron fences are then welded to specification. When building these wrought iron fences on stone or brick knee walls and columns, the post and other parts of the fence are best built into the stone or brick as it's being built.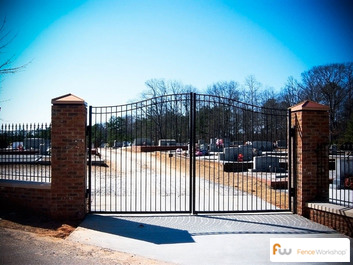 Where does Fence Workshop™ Supply Wrought Iron Fencing?
At Fence Workshop™ we supply wrought iron Fences in Georgia, Florida, North Carolina and South Carolina areas like Atlanta GA, Athens GA, Augusta GA, Columbus GA, Macon GA, Savannah GA, Valdosta GA, Destin FL, Jacksonville FL, Orlando FL, Tallahassee FL, Tampa FL, Apex NC, Cary NC, Chapel Hill NC, Holly Springs NC, Raleigh NC, Wake Forest NC and many more.
---
Get Started – Shop Our Fences Now!
We know you're getting excited about your new fencing project, and we would love to help. You're just a call or click away from getting started! Our passion is the art of beautiful fences, and we can't wait to share that passion with you to create the dazzling fencing you've been dreaming of. Get started now!
Email: [email protected]