Commercial Galvanized Chain Link Fencing
---

---
Why Fence Workshop™?
Fence Workshop™ commercial galvanized chain link is manufactured to be three times as strong and last three times as long as other commonly used chain link materials. Why settle for anything less?
Commercial Galvanized Chain Link Fencing: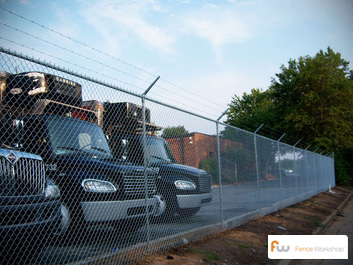 Our commercial and industrial grade chain link typically consists of domestically manufactured schedule 40 piping and 9 gauge wire mesh. At Fence Workshop™, we have professionally supplied hundreds of miles of commercial grade chain link fencing and have the experience and expertise to handle the largest of commercial and industrial projects. All of our professionals have years of professional installation experience installing commercial fencing to follow any given specs and conform to ASTM standards. Along with providing commercial chain link, we also supply large quantities of chain link materials to contractors and other fence companies alike.
Commercial Galvanized Chain Link Fence Cost:
Current Average Per Foot Fencing Cost: The pricing below includes the current average cost per foot for supply and professional installation of common heights and styles of our domestically manufactured commercial schedule 40 galvanized chain link fencing. Prices vary depending on footage, ground conditions and location. Accurate project pricing can be attained by sending project specifications or the location of specifications to [email protected], or by describing the project to any of our professional project managers over the phone or by email. For pricing of other heights, gauges and styles of commercial galvanized chain link (such as 10 ft fencing, the addition of gates,gate automation, razor wire, concertina wire, privacy slats, privacy screening and more), or for material pricing only, email [email protected].
We are Insured:
At Fence Workshop™ we are licensed, and fully insured.
Where does Fence Workshop™ supply galvanized chain link fencing products?
At Fence Workshop™ we supply galvanized chain link fencing in Georgia, Florida, North Carolina and South Carolina areas like Atlanta GA, Athens GA, Augusta GA, Columbus GA, Macon GA, Savannah GA, Valdosta GA, Destin FL, Jacksonville FL, Orlando FL, Tallahassee FL, Tampa FL, Apex NC, Cary NC, Chapel Hill NC, Holly Springs NC, Raleigh NC, Wake Forest NC and many more As always, we offer best in class manufacturers' warranties on all our fencing products.
---
Get Started – Shop Our Fences Now!
We know you're getting excited about your new fencing project, and we would love to help. You're just a call or click away from getting started! Our passion is the art of beautiful fences, and we can't wait to share that passion with you to create the dazzling fencing you've been dreaming of. Get started now!
Phone: (404) 973-2911  Email: [email protected]  Get a quote: Online Quick Quote Form