Security Fencing
---

---
Security Fencing Experts: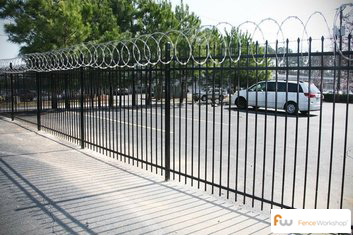 Increase your property's security even more by adding barbed wire or razor wire to the top. Fence Workshop™ is your source for security fence supply in the Southeast. From chain link security fences to our Ameristar® Invincible®, Matrix®, Impasse® security fences and gates, we supply & supply the best in security fences. Customers in Georgia, Florida, North Carolina and South Carolina deserve the highest quality and reliability when it comes to securing their residential, commercial or industrial property. Our security fencing by Ameristar® comes with their E-Coat™ 20 year manufacturer's warranty making them some of the most reliable and tough security fences on the market today.
Security Fencing accross the Southeast: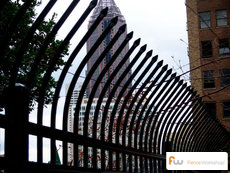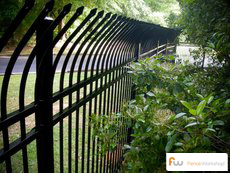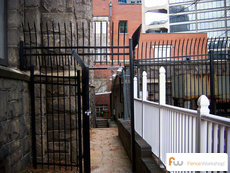 Chain Link Security Fencing: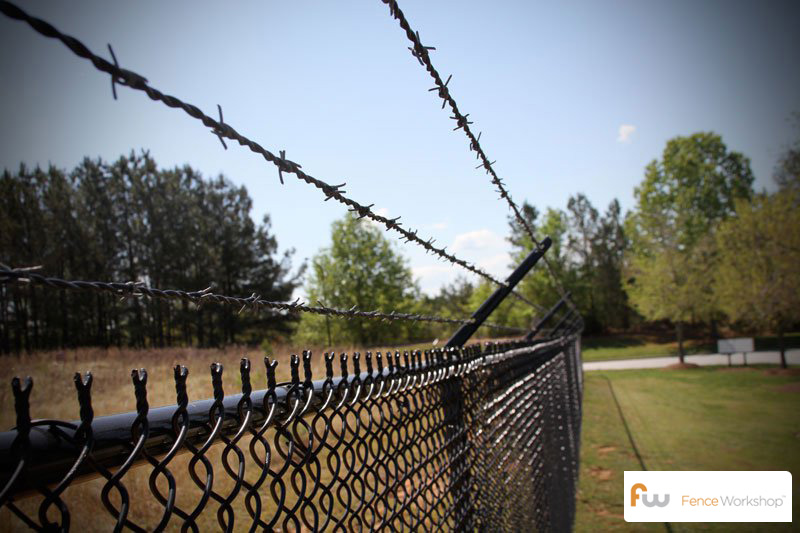 Chain Link Security Fencing can be one of the most cost-effective ways to enhance security at a location. It's also highly customizable, and its security can be easily and greatly enhanced by adding barbed wire or razor wire to the top. Chain link security fencing is very popular with our customers because it provides a great combination of price and value. If you need advice or help planning your commercial chain link security fence, please contact us and we will go over the pros and cons of installing this type of fence at your location.
Invincible® Security Fencing: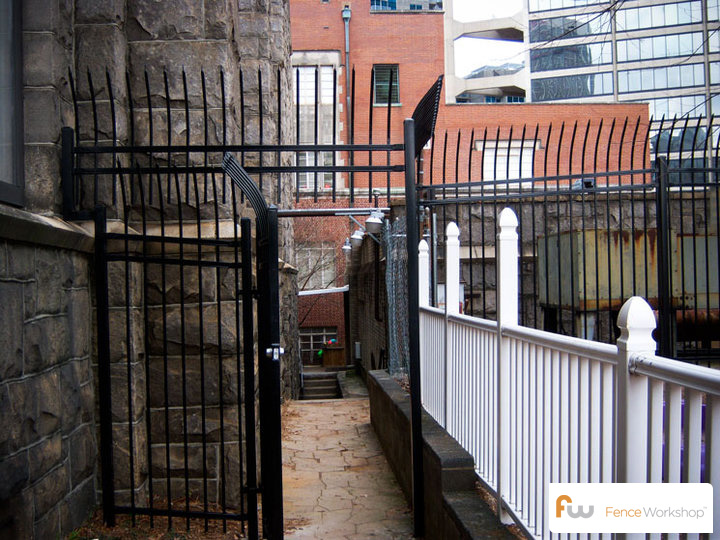 Invincible® security fences feature outwardly curving spear-topped pickets that extend 18″ inches above the top rail to warn potential intruders and make access by climbing virtually impossible. Providing heightened security and sleek look, this fence is a superior alternative to chain link and barbed wire due to its unmatched strength and long-lasting coating. Also, as with all other Ameristar® fencing options, it comes with Ameristar's® E-coat™ maintenance-free finish, including a manufacturer's warranty for 20 years, as well as the Fence Workshop™ best in class manufacturers' warranties on all our fencing products.
Matrix® Security Fencing: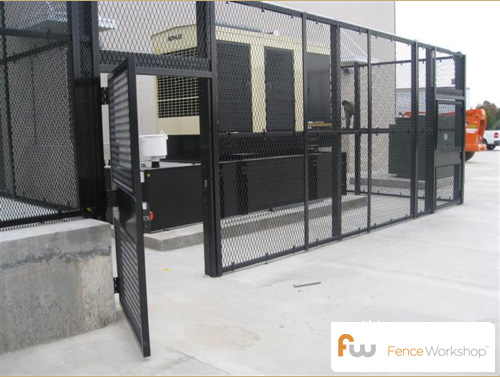 Matrix® security fences are more than just fencing. Matrix® is a high-end security system that is designed to conform to a variety of applications and allows for full overhead enclosure if desired. The Matrix® fence system is composed of multiple architectural mesh fillers which give the system the ability to adapt to multiple site conditions and be customized to enclose a variety of objects, from an air conditioning unit to all interior and exterior components of an industrial facility. This enclosure fence system comes with Ameristar's® leading coating warranty, is available in standard as well as custom heights, and can even be installed at heights over 24 feet!
Impasse® Security Fencing: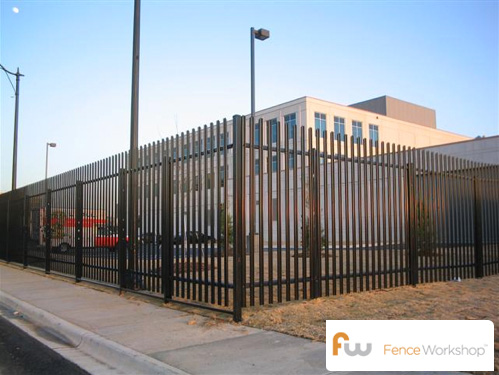 Ameristar combines modern fence technology and industrial strength security with their Impasse® fence. The Impasse® Security Fence is designed to meet the need for a value-added security fence that delays forced entry long enough to bring secondary security measures into play. The Impasse® system is engineered to be easily accessorized with added anti-ram barrier capability and anti-climb inserts, as well as sensor and alarm systems. The Impasse® posts and horizontal rails accept the Stalwart® integrated cable system for added perimeter security.
Where do we supply Security fencing?
At Fence Workshop™ we supply security fencing in Georgia, Florida, North Carolina and South Carolina areas like Atlanta GA, Athens GA, Augusta GA, Columbus GA, Macon GA, Savannah GA, Valdosta GA, Destin FL, Jacksonville FL, Orlando FL, Tallahassee FL, Tampa FL, Apex NC, Cary NC, Chapel Hill NC, Holly Springs NC, Raleigh NC, Wake Forest NC and many more. As always, we provide a 5-Year Installation Warranty with all fences we install.
---
Get Started – Shop Our Fences Now!
We know you're getting excited about your new fencing project, and we would love to help. You're just a call or click away from getting started! Our passion is the art of beautiful fences, and we can't wait to share that passion with you to create the dazzling fencing you've been dreaming of. Get started now!
Phone: (404) 973-2911  Email: info@fenceworkshop.com  Get a quote: Online Quick Quote Form