Perimeter Security Fencing General Information
---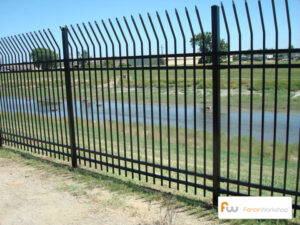 Establishing and maintaining perimeter security is growing increasingly important for many of the United State's public and private facilities, whether the concern is the safety of children at schools, theft or sabotage of key resources, disruption of business operations, or terrorism. The initial impression visitors may have of a business or facility can come from the first things they see: the fence and gates. Does their appearance reflect the image the owner wants to portray to the public? For example, fences and gates appropriate for a high school may be totally unacceptable for a pharmaceutical manufacturing plant.
While there are various standards and resources for 'high-security' fencing used at military bases and similar facilities, there are not similar design guidelines for the specifier to apply to ornamental fencing and gates used at the more common commercial and industrial facilities. Our website provides basic information about this subject, educating designers and property owners about what they should consider when detailing these forms of perimeter security. There is a wide range of product—and cost—options when it comes to ornamental fencing. Products can be fabricated in a shop (possibly in a backyard) or manufactured with quality control procedures. They can be steel or aluminum, galvanized or not, and finished with paint, powder coating, or more exotic finishes. Panel assembly may rely on retaining rods, rivets, or welds, nuts and bolts. Construction at the job site could mean field-welding or different types of brackets. The quality of manufactured fence results from a detailed quality control process.
The method ensures:
base metal quality ( i.e. grade and thickness);
consistent weld appearance and quality;
proper preparation of the metal for coating; and
coating thickness and type.
Where does Fence Workshop™ Supply Perimeter Security Fencing?
At Fence Workshop™ we supply Perimeter Security Fences in Georgia, Florida andNorth Carolina areas like Atlanta GA, Athens GA, Augusta GA, Columbus GA, Macon GA, Savannah GA, Valdosta GA, Destin FL, Jacksonville FL,Orlando FL, Tallahassee FL, Tampa FL, Apex NC, Cary NC, Chapel Hill NC, Holly Springs NC, Raleigh NC, Wake Forest NC and many more.
---
Get Started – Shop Our Fences Now!
We know you're getting excited about your new fencing project, and we would love to help. You're just a call or click away from getting started! Our passion is the art of beautiful fences, and we can't wait to share that passion with you to create the dazzling fencing you've been dreaming of. Get started now!
Phone: (404) 973-2911 Email: [email protected] Get a quote: Online Quick Quote Form
Select Information Provided by Steven Miller (CC)