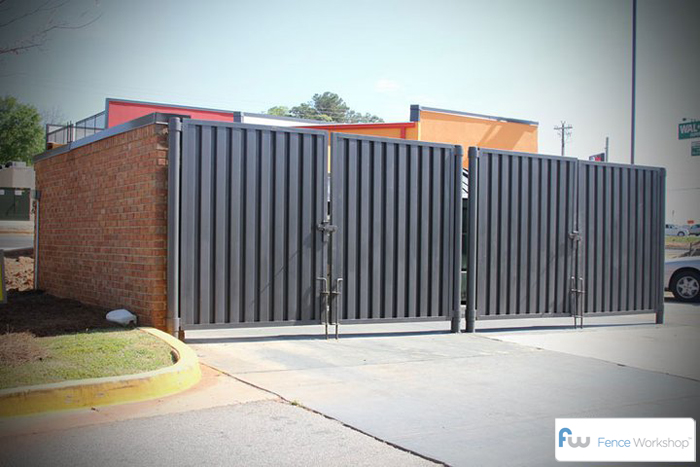 Nobody wants to see dumpsters and garbage cans. Nor do businesses want their dumpsters used as public dumping grounds for the general public. That's why more and more businesses in and around Atlanta have been building dumpster and garbage enclosures and gates to hide them. At Fence Workshop™, we're one of the only fence companies in Atlanta that specializes in supplying and installing dumpster and garbage enclosures and gates for commercial purposes. So if you're looking for the right company to supply and/or install your dumpster gates in Atlanta, GA, you've found us!
Dumpster Gates Atlanta, GA – How To Get A Quick Quote
We want to make the process of getting a quote for your new residential or commercial dumpster gate and/or enclosure as simple as possible. Send us the available information about your project including photos if applicable to [email protected], and we'll get a quote over to you in no time. We can make nearly any dumpster gate/enclosure a reality!
Other Atlanta, GA Fence Workshop Services
Fence Repair, Atlanta, GA
Fence Supply, Atlanta, GA
Gate Repair, Atlanta, GA
---
Start Planning Your Dumpster Gate Project Now!
Ready to get your gate project planned? Fence Workshop Atlanta is here for you every step of the way. Call us today to discuss your gate project – from dumpster gates and enclosures to residential automatic gates, we can supply and install almost any type of gate at a great price. We can't wait to work with you!
Phone: 404-973-2911  Email: [email protected]  Get a quote: Online Quick Quote Form
Zip Codes
30301 | 30302 | 30304 | 30305 | 30306 | 30308 | 30309 | 30310 | 30311 | 30312 | 30313 | 30314 | 30315 | 30318 | 30320 | 30321 | 30324 | 30325 | 30326 | 30327 | 30328 | 30330 | 30331 | 30332 | 30334 | 30336 | 30337 | 30342 | 30343 | 30344 | 30347 | 30348 | 30349 | 30350 | 30353 | 30354 | 30455 | 30357 | 30358 |