Gate Repair Atlanta, GA
---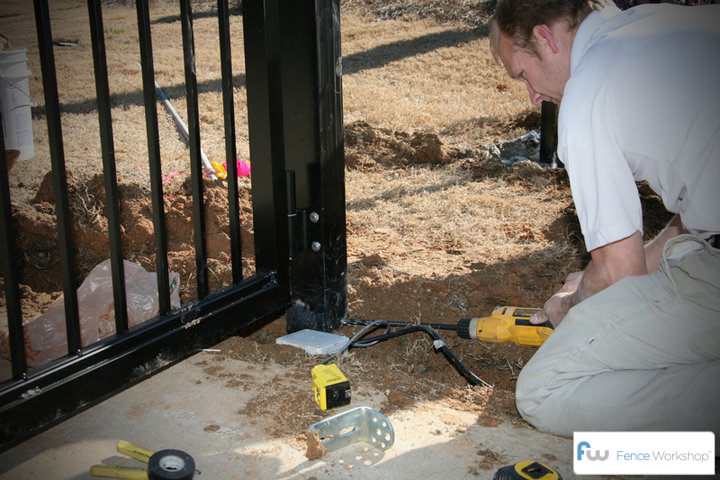 Need a Gate Repaired in Atlanta, GA?
At Fence Workshop™ of Atlanta, we don't just install gates, we professionally repair gates. Whether it's an automatic driveway gate, gate opener and operator, commercial gate, pool gate, cantilever gate, sliding gate, swinging gate or security gate, we're the experts that Atlanta calls to provide quick and affordable gate repairs. It's common for entry gates to get rammed by vehicles and damaged. A damaged gate can prevent employees from getting to work, residents from getting to their homes and much more.
We understand the importance of providing a gate repair service that is fast and affordable and are proud to be Atlanta's most requested gate repair company. Along with providing Atlanta gate repair services, we are also established to replace any and all gate and gate operators. If they don't make it any more, we're the guys to custom build it. We have our own gate fabrication workshop here in Atlanta and are one of the leading builders of gates in the United States. So if you're looking for the right Atlanta fence company or contractor to repair a gate in Atlanta, be sure to give us a call!
How To Get A Quick Quote:
We know that getting a gate repair can be stressful, especially if it is preventing access to your home or business. We make getting a quote easy – just follow these quick steps:
1. Take some photos of your damaged gate – be sure the photo not only includes the damaged areas of the gate, but also a full picture of the gate itself.
2. Send your gate photos to

[email protected]

and include all available information such as measurements, property address and contact information.
3. Receive your quote!
If your Atlanta gate repair or Atlanta fence repair requires an onsite visit in order to accurately quote your project, we'll be happy to schedule it!
Other Atlanta Fence Workshop Services:
Fence Repair
Dumpster Gates and Enclosure Supply and Installation
Fence Materials Supply
Metal Railing Repairs
Zip Codes
30301 | 30302 | 30304 | 30305 | 30306 | 30308 | 30309 | 30310 | 30311 | 30312 | 30313 | 30314 | 30315 | 30318 | 30320 | 30321 | 30324 | 30325 | 30326 | 30327 | 30328 | 30330 | 30331 | 30332 | 30334 | 30336 | 30337 | 30342 | 30343 | 30344 | 30347 | 30348 | 30349 | 30350 | 30353 | 30354 | 30455 | 30357 | 30358 |
---
Looking for aluminum, vinyl or chain link fence materials to be delivered to your doorstep? You're just a click away from our fence supply online store! Get started now!
Phone: 404-973-2911  Email: [email protected]  Get a quote: Online Quick Quote Form