---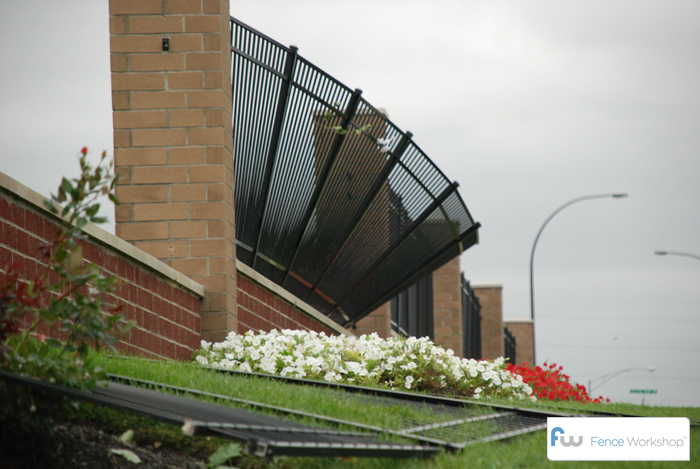 Looking for a Reliable Atlanta Fence Repair Company?
Fence Workshop™ is your go-to company for fence repair in Atlanta, GA. We handle repairs for all styles of fencing including wood, vinyl, chain link, steel, aluminum, wrought iron and composite fencing. We can quickly provide an estimate when you send images and information about the damage to [email protected].
Fence Workshop understands that most Atlanta fence repairs require immediate attention. Our location that is 15 minutes from downtown Atlanta allows us to provide fence repair service within a few days in most cases. We only send our trained and highly experienced fence professionals to repair your fence, so it's sure to be repaired to the highest level of quality! Whether you need wood fence repair, chain link fence repair, aluminum fence repair, or steel or iron fence repair in Atlanta, GA, look no further than Fence Workshop™!
Common Reasons For Atlanta Fence Repair:
The Fence Was Poorly Built and Falling Down
Pickets Are Warping and Coming Off
The Fence Is Old and Showing Wear and Too Much Weathering
A Tree or Limb Has Fallen on Your Fence
A Vehicle has Wrecked into the Fence
Your Fence Has Suffered Storm Damage
Wood Fence and Gate Repair Atlanta, GA
Here at Fence Workshop, we understand what steps should be taken to build a quality and long lasting wood fence. When you choose Fence Workshop to repair your damaged wood fence, you can be sure that our experienced repairmen will go above industry standards to ensure your fence is even stronger than when it was originally built. Some steps our repairmen take include:
We use only Pressure Treated Pine fence posts set 2ft deep in wet concrete, increasing the longevity of the structure.
We frame all of our wood gates in Cedar, decreasing weight and therefore reducing the tendency for the gate to sag over time.
Our repairmen opt for 6×6 Pressure Treated Pine posts for ALL gates regardless of size, reducing the likelihood of warping and sagging.
For 6ft Wood Privacy, we always use 3 rail Pressure Treated Pine framing. For 8ft Wood Privacy, we always use 4 rail Pressure Treated Pine framing. This ensures adequate support for the fence panel.
Chain link fencing is readily found in both residential and commercial settings around the Atlanta area. Fence Workshop commonly repairs chain link that has sustained environmental damages such as tree damage or rusting. Furthermore,  we also encounter plenty of damage created by man such as car damage or trespassers. We often get calls about damaged gates and gate posts at commercial properties, as they are routinely hit by delivery trucks and garbage trucks. Whatever the case, we want to be your go-to solution for chain link gate and fence repair.
We are able to obtain extremely competitive pricing on chain link fence parts, including black vinyl chain link, green vinyl coated chain link and commercial chain link parts. We pass those savings on to the customer, so you can feel confident you are getting the best pricing available. Our certified repairmen work efficiently and take care to clean up all debris, leaving your property looking better than when they arrived.
Need chain link fence supplies in Atlanta, GA? We can deliver! Call or e-mail us today with the parts you need and we'll get it together for you in no time!
Aluminum or Steel Fence, Gate and Railing Repair Atlanta, GA
People choose aluminum and steel fences and gates in order to avoid many of the repairs required with wood fences or chain link fences. However, some repairs are simply unavoidable. If you have an aluminum or steel fence that needs repair, we want to be your choice in fence repair company. We have welders on hand that can fix iron and steel in no time. Common repairs include welding new hinges and latches on gates and replacing bent pickets and rails.
Not all aluminum producers are the same, so if you are looking for an aluminum repair, we'll need to know as much information as possible to be sure to find replacement panels that will match your existing fence. Be sure to know the measurements of your fence including height, distance between pickets, and distance between rails. Be sure to take a look at our aluminum fence shop where you can purchase aluminum fence materials to be delivered to your doorstep – we include all specifications for all of our different styles.
Dumpster Fence and Enclosure Repair Atlanta, GA
More and more businesses are opting for full dumpster enclosures to hide and protect their dumpster and garbage containers. They not only improve the look of any business, they also deter outsiders from using your designated disposal containers as their personal dumping ground. That's why it's important to keep them in working order. Garbage trucks will bump into your dumpster gate posts and doors at some point. Fence Workshop will take care of these repairs quickly and professionally.
Furthermore, we build and install dumpster enclosures and gates in Atlanta, GA if you're looking to add one to your home or business. Give us a call to discuss your needs today!
---
Get Your Fence Repair Atlanta, GA Quote Now!
We know you need to get your Atlanta, GA fence repaired quickly, and we would love to help. You're just a call or click away from getting started! Use the e-mail below to provide photos of your damaged fence and include any information that will be helpful for an accurate estimate such as measurements. Whether it's a residential wood privacy fence, a commercial chain link gate or anything in between, we can get a quote over to you in no time.
Phone: 404-973-2911 Email: [email protected]
Fence Repair Atlanta, GA Service Zip Codes
30301 | 30302 | 30304 | 30305 | 30306 | 30308 | 30309 | 30310 | 30311 | 30312 | 30313 | 30314 | 30315 | 30318 | 30320 | 30321 | 30324 | 30325 | 30326 | 30327 | 30328 | 30330 | 30331 | 30332 | 30334 | 30336 | 30337 | 30342 | 30343 | 30344 | 30347 | 30348 | 30349 | 30350 | 30353 | 30354 | 30455 | 30357 | 30358 |