Chain Link Fence Repair Atlanta, GA
---
Needing chain link fence repair in Atlanta, GA?
Chain link is the most widely installed and repaired fence styles in the world. While high quality chain link fence materials can last well over 100 years, that does not mean the fence itself will… at least not without a few repairs through the years. Most commonly chain link fabric will stretch over time and need to be re-stretched. Top rails detach from falling limbs or people climbing the fence. Both of these are common, hard to avoid causes for needing a chain link fence repaired. Unfortunately, we also get a large amount of calls in and around Atlanta for chain link fence repair after a vehicle intentionally or unintentionally crashes into a fence and when trespassers have cut through a fence. No matter how you look at it, it's common for chain link fencing to need some repair here and there. Compared to wood fencing which will typically last up to 22-years and still need to be repaired along the way, good chain link fencing can easily last up to 5x as long and need the same or less repair work than wood fences.
At Fence Workshop™, we professionally repair both residential and commercial chain link fences in Atlanta. Whether you have a regular 4 foot galvanized chain link fence or a 10 foot green, brown or black vinyl coated chain link fence, we should have all the products needed to repair your fence, in-stock. Typically we can repair all styles of chain link fence in Atlanta, within days. So if you're looking for the right fence company, contractor, builder or installer to repair chain link fencing in Atlanta Georgia, Fence Workshop™  is the go to fence company.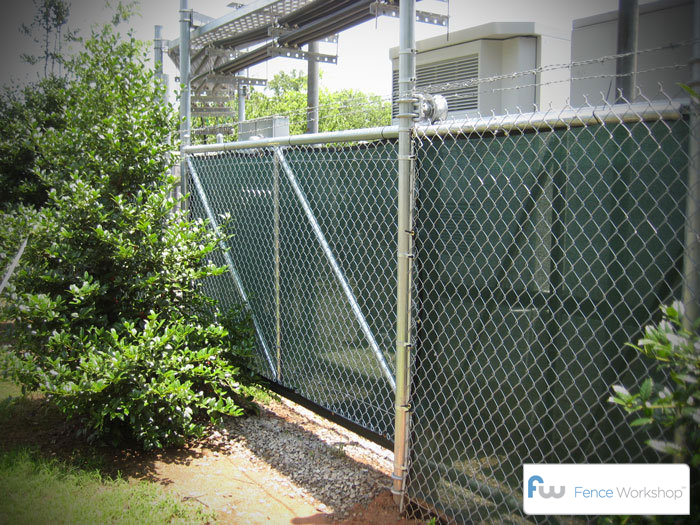 ---
Get Started – Shop Our Fences Now!
We know you're getting excited about your new fencing project, and we would love to help. You're just a call or click away from getting started! Our passion is the art of beautiful fences, and we can't wait to share that passion with you to create the dazzling fencing you've been dreaming of. Get started now!
Phone: 1-888-802-5252  Email: info@fenceworkshop.com  Get a quote: Online Quick Quote Form
Zip Codes
30301 | 30302 | 30304 | 30305 | 30306 | 30308 | 30309 | 30310 | 30311 | 30312 | 30313 | 30314 | 30315 | 30318 | 30320 | 30321 | 30324 | 30325 | 30326 | 30327 | 30328 | 30330 | 30331 | 30332 | 30334 | 30336 | 30337 | 30342 | 30343 | 30344 | 30347 | 30348 | 30349 | 30350 | 30353 | 30354 | 30455 | 30357 | 30358 |