Impasse Security Fencing by Ameristar™
---
Impasse Security Fencing in Georgia, Florida and North Carolina:
Fence Workshop™ is Ameristar's expert provider of Impasse high security fencing systems. When it comes to High Security Fencing systems, there is no better choice than the Impasse system from Ameristar™. Serving all areas of Georgia, Florida and North Carolina.
About the Impasse Security Fence System: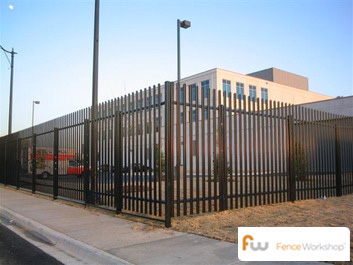 The Impasse Security Fence was designed to meet the need for a value added security fence that delayed forced entry for a time period sufficient to bring secondary security measures into play. The Impasse system is engineered to be easily accessorized with added anti-ram barrier capability and anti-climb inserts, as well as sensor and alarm systems. The Impasse posts and horizontal rails accept the Stalwart integrated cable system for added perimeter security. This combination has successfully tested to the U.S. Department of State's K8 Anti-Ram rating, stopping a 15,000 pound truck traveling at 40 mph within 1 meter of the fence line.
More on the Stalwart Anti Ram System:
When it comes to protecting your business and property, Ameristar™ offers proven technology to meet the security demands of most companies. Fence Workshop™ understands the value of protecting your assets and is ready to assist you in addressing your security needs. The specially roll-formed Impasse Rail system pictured above is designed to be stronger than conventional rails. The system is designed to withstand significant bending forces that would destroy other steel fences. With a two rail Stalwart Cable System integrated into the Impasse Rail sysytem, a 15,000 pound vehicle traveling 40 mph has been stopped within 1 meter. In addition, pointed security spikes along the top front surface between pales prevent climbing.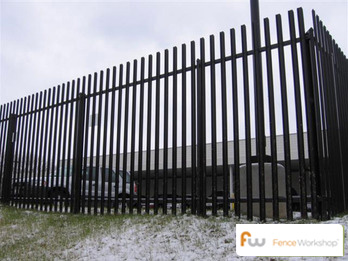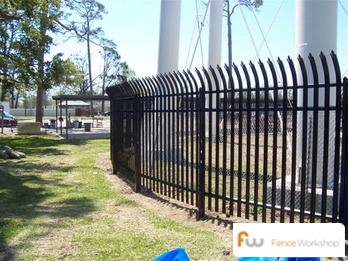 Impasse Color Options:
The Impasse is available in three different styles (triple-pointed, blunt-tipped, and outwardly curved) and four standard colors (black, white, bronze, and desert sand). It comes with a manufacturer's warranty and Fence Workshop's 5-year warranty.
Additional Impasse Security Fencing Information:
For more information on the Impasse fence, visit the Ameristar fence website. Also please take some time to check out these helpful PDF's with more information on Impasse Security Fencing:
Where do we supply Impasse security fencing?
At Fence Workshop™ we supply Impasse security fencing in Georgia, Florida and North Carolina areas like Atlanta GA, Athens GA, Augusta GA, Columbus GA, Macon GA, Alpharetta GA, Marietta GA, Conyers GA, Lawrenceville GA, Woodstock GA, Braselton GA, Orlando FL, Apex NC, Cary NC, Chapel Hill NC, Holly Springs NC, Raleigh NC, Wake Forest NC and many more.
---
Get Started – Shop Our Fences Now!
We know you're getting excited about your new fencing project, and we would love to help. You're just a call or click away from getting started! Our passion is the art of beautiful fences, and we can't wait to share that passion with you to create the dazzling fencing you've been dreaming of. Get started now!
Phone: (404) 973-2911 Email: info@fenceworkshop.com Get a quote: Online Quick Quote Form