Pool Safety Fencing
---
Pool Safety Fence Installers:
Fence Workshop™ supplies Mesh Pool Safety Fences in Georgia, Florida and North Carolina.  These mesh mesh pool safety fences are designed with your families safety in mind. From Raleigh, NC to Atlanta, GA and all the way down to Jacksonville and Orlando, FL our mesh pool safety fences are the best at what they do, saving lives.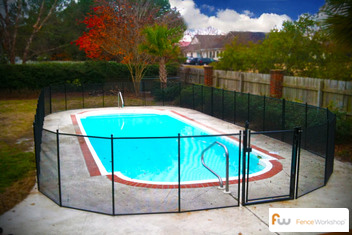 What is a pool safety fence?
"Pool safety fence" refers to a removable pool fence constructed of mesh and metal posts. These fences are often referred to as a swimming pool fence, baby fence, mesh fence, pool barrier, safety fence, kiddy fence, pool barrier or child fence. They are solely designed to improve swimming pool safety and to help prevent small children and pets from accidentally falling in the pool and drowning or having an injury?.
Pool Mesh:
Our removable pool fence mesh is constructed with a high strength, mildew and UV resistant dipped polyvinyl coating that can withstand years of direct sunlight and extreme cold. Also, we install our mesh pool safety fences with sleeve caps that prevent tripping or stumbling on fence poles. The mesh is domestically manufactured here in the United States and boasts one of the highest tensile strength available on the market today. This increased strength makes the mesh virtually impossible to tear or rip under normal use. The mesh is framed by marine grade vinyl and is manufactured to meet ASTM international standards. The border is stitched using a time and laborious process called double loop lock stitching. The locking of the stitching is what keeps the border from coming unraveled over time. Our removable pool mesh is nearly transparent and available in black, white, beige and brown.
Pool Fence Poles:
Our removable pool fence poles utilize a quad core (has an quad-x interior support that increases strength). These poles are manufactured in the United States and constructed of high strength grade 6063 aluminum that meets ASTM international standards. Our mesh poles undergo an industry leading powder coat finish that is available in black, white, beige and brown.
Pool Fence Post Screws:
Every screw that goes into the pole to hold the mesh into place to the pole is powder coated aluminum to provide longevity against the outdoor elements.
Pool Fence Deck Sleeves:
Every pole is inserted into the deck of the pool is made of injected plastic in a variation of colors including white, tan and gray. These sleeves are non-conductive resulting in a safe pool fence "ground" for each pool fence pole.
Pool Pole Screws:
Each pole of our pool safety fence has 16 screws resulting in the strongest fence poles in the industry, this abundance of screws per pole on the pool fence results in an unsurpassed vertical strength providing the pool the optimal in safety protection.
Pool Pole Distance:
Our Pool Safety Fence comes in fifteen linear feet sections. Each section has 6 poles attached to the mesh (preassembled pool fence). Each pole is 36 inches on center and the size of the pole is 1 ¼" in diameter. This diameter allows for the pole to have the optimal strength needed to support a tremendous vertical or horizontal force placed on the pool fence.
Pool Fence Caps:
Pool fence sleeves remain in the deck of the pool when the removable pool fence is taken out. This removal of the fence leaves a sleeve with a hole showing. We provide pool fence pole caps that can be placed in these sleeves which help to aesthetically keep the appearance of the pool up as well as keep various dirt and miscellaneous items from falling into the inside of the sleeve.
Pool Fence Distance From Pool:
It is recommended that the removable pool fence be installed at least 24" from the coping or the edge of the pool. The purpose behind this recommendation is for two reasons. The first is that the person that cleans the pool or the people using the pool should have room to move about inside the pool without the obstruction of the removable pool fence. The other reason is that if a small child is swimming and the pool fence is up and the pool fence is too close to the pool the child may not have ample space to pull themselves out of the water resulting in an accident as well.
Pool Gate:
Our Pool Safety Gate is the strongest in the industry. The frame is classified as a Mono-frame. This unique U shaped frame serves as structural reinforcement for the gate itself. This Mono-Frame structure allows the gate to be free standing without being dependent on the entire fence thus making it the strongest in the industry. The welds of the frame are hand welded for optimal consistency and strength. Each Gate is powder coated to provide optimal longevity. As with the fence and components the gates are made in the U.S. and installed to follow BOCA pool code requirements.
Pool Fence Latches and Hooks:
We use only stainless steel hooks and latches in order to provide a true rust free product whether your pool back up to the woods or is ocean front, our stainless steel latches and hooks will secure each fence section together for a long time to come. Each latch is spring loaded providing a latch that is very difficult for small hands to tamper with.
Pool Gate Hinge and Latch:
Our swimming pool safety gates utilize self closing hinges and auto-latching locks. We use Tru-Close hinges which are adjustable depending on the level of strength wanted by the owner. The hinges can be adjusted by simply a turn of a screw on each hinge. The spring loaded hinges drive the gate back into it's proper position when closed and are then captured by the industry leading Magna-Latch. The Magna-latch is lockable with a key. This combination of hardware results in an industry leading gate that is self closing, self latching and lockable to provide the safest of environments when the pool is not to be used.
Where do we supply our pool safety fences?
At Fence Workshop™ we supply pool safety fences in Georgia, Florida and North Carolina areas like Atlanta GA, Athens GA, Augusta GA, Columbus GA, Macon GA, Savannah GA, Valdosta GA, Destin FL, Jacksonville FL, Orlando FL, Tallahassee FL, Tampa FL, Apex NC, Cary NC, Chapel Hill NC, Holly Springs NC, Raleigh NC, Wake Forest NC and many more.
---
Get Started – Shop Our Fences Now!
We know you're getting excited about your new fencing project, and we would love to help. You're just a call or click away from getting started! Our passion is the art of beautiful fences, and we can't wait to share that passion with you to create the dazzling fencing you've been dreaming of. Get started now!
Phone: (404) 973-2911 Email: info@fenceworkshop.com Get a quote: Online Quick Quote Form