Pool Fencing
---

---
Pool Fencing from the Professionals:

Fence Workshop™ is the company you can trust for Pool Fencing in Georgia, Florida, North Carolina and South Carolina. Our company has been supplying pool fencing across the Southeast for almost a decade. Our pool fences are both beautiful and safe and are built with your safety and security in mind. Our experts specialize in pool fencing of all types. Much more than simply adding style and security to your pool area, our fencing provides the safety you need for your family. Fence Workshop™ can supply your pool fence anywhere in the Southeast.
We Offer Many Options for Pool Fencing:
Aluminum Pool Fencing:

Our aluminum pool fences are strong, beautiful, will never rust and never need to be painted. Because our aluminum pool fences are customizable with rings, finials, and more, it's easy to find or design a style of fence that you are sure to love. Our expert staff has been supplying aluminum pool fences in the Southeast for almost a decade. Be assured that when you choose Fence Workshop™ for your next aluminum pool fence, you're choosing quality and value.
Chain Link Pool Fencing:
Chain link pool fencing can make for a highly secured pool barrier, if properly planned and installed. If budget is a primary concern, the cost of chain link pool fencing is very affordable when compared to other types of fencing. For this reason, cities, states, neighborhoods, as well as families can benefit from this affordable form of swimming pool fence.
Custom Pool Fencing:

Our custom built pool fences can be constructed from steel, aluminum, wrought iron, wood, or vinyl. When it comes to our custom fences, the options are endless. Our welders are in-house professionals that work for Fence Workshop™ only. They each have decades of welding experience and have honed their skills at our organization for years.
Mesh Pool Safety Fencing:

Our removable mesh pool safety fence is constructed with a high strength, mildew and UV resistant dipped polyvinyl coating that can withstand years of direct sunlight and extreme cold. Also, we supply our mesh pool safety fences with sleeve caps that prevent tripping or stumbling on fence poles. They are designed to improve swimming pool safety and to help prevent small children and pets from accidentally falling in the pool and drowning or being injured?.
Steel Pool Fencing:

Our steel pool fence panels come in a variety of styles and meet U.S. BOCA National Pool Codes. The major difference in regular steel fencing and our steel pool fencing is the air spacing between the pickets. Our Ameristar™ Montage pool fences have BOCA specified air space, whereas commonly used regular steel fencing has spacing not up to code.
Vinyl Pool Fencing:

Vinyl pool fencing is about one third more expensive then wood pool fencing. Vinyl costs almost the same as a steel pool fence, but it doesn't corrode like metals do. Fence Workshop™ never uses manufacturers that use substrates in their vinyl fencing. This removes the possibility of scratched or scuffed yellow vinyl swimming pool fences.
Wood Pool Fencing:
While we do not currently offer wood pool fencing supplies, there are a variety of reasons why you may want to use wood for your pool fence. The major advantage of a wooden pool fence is that it provides privacy that can't be found when using metal fencing. Another great advantage of wooden pool fencing is its customizability. You can customize a new wooden pool fence with a built-in grilling station, swing, storage box or even a space designed to hide pool equipment, pumps, etc.
Wrought Iron Pool Fencing:

Some customers may be looking for a wrought iron pool fence, especially if there is existing wrought iron on the property. These highly permanent fences can and will last for hundreds of years, but they are not with some upkeep including rust issues. These issues are especially prominent in wet climates. We do not offer wrought iron fencing supplies at this time, but check back in the future.
Pool Fences Keep You Safe Where You Swim.

Fences are built to ensure safety, and our most important responsibility is to protect our children and to keep them safe. It is important to keep kids who swim in your pool safe. Children under the age of 5 are the most at risk for drowning, as drowning is ranked second in accidental causes of death for that age range. Considering the statistics regarding accidental drowning, a fence's primary purpose—to deter entrance—will accomplish just that. However, deterring entrance can only help protect against such accidents if there is proper adult supervision. You should definitely consider adding a magnetic lock to secure your pool's gate and make it more difficult for unauthorized entry.
Community Pool: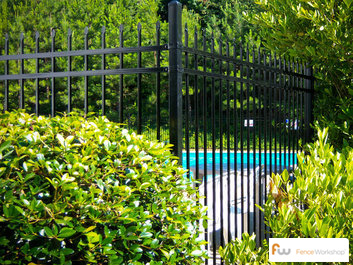 If it is a residential or community pool, barriers are usually installed following safety regulations set up by the community. In backyard pools not used by a community, it's ultimately up to the owners to ensure the supervision and safety of those who swim in it. Whether at a backyard or community pool, supervision is the first and most important form of safety that should be practiced. However, studies show that supervision does fail. In fact, it fails 69% of the time (Supervision, in this statistic, also includes babysitters, siblings, and any supervision other than the parents of the child). This statistic suggests that additional precautions should be taken to make your pool area safe.
Pool Fence Fact:
Installing a barrier such as a wall or fence is not only the law, but the most effective way to bar entry—especially to a child—into any area. So why not erect a fence around your pool?
These Fences are Certified for Safety.
As with all pool fences we supply, our swimming pool safety fences are compliant with National BOCA pool codes and local pool codes (depending on location). These fences are constructed with high quality, long lasting materials and are the perfect option for increasing pool safety and preventing injury or death from pool-related accidents.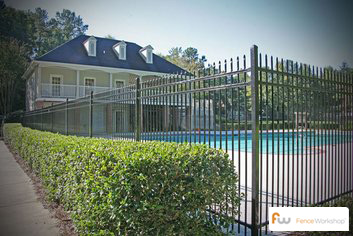 Supplies Near You.
Whether you're looking for pool fencing options, pricing information, codes and requirements or even general pool safety information, you've come to the right place. At Fence Workshop™, we take pool fencing very seriously and put the safety of our fences before all other things.  We supply pool fencing in Georgia, Florida, North Carolina and South Carolina areas like Atlanta GA, Athens GA, Augusta GA, Columbus GA, Macon GA, Savannah GA, Valdosta GA, Destin FL, Jacksonville FL, Orlando FL, Tallahassee FL, Tampa FL, Apex NC, Cary NC, Chapel Hill NC, Holly Springs NC, Raleigh NC, Wake Forest NC and many more. As always, we provide a Lifetime best in class manufacturers' warranties on all our fencing products.
---
Get Started – Shop Our Fences Now!
We know you're getting excited about your new fencing project, and we would love to help. You're just a call or click away from getting started! Our passion is the art of beautiful fences, and we can't wait to share that passion with you to create the dazzling fencing you've been dreaming of. Get started now!
Email: [email protected]