Commercial Railing
---

---
Professionally Installed Commercial Railing:
Ever wonder who supplies the commercial railing you see at popular entertainment venues in Georgia, Florida, North Carolina and South Carolina? There is a good chance the expert crew at Fence Workshop™ did. From baseball stadiums to concert halls and amphitheaters, we supply all styles and designs of commercial railing.
Building Commercial Railing & Handrails:
We supply every style of commercial and industrial railing, including ADA compliant, ornamental aluminum, steel, stainless steel, custom welded decorative iron, wood and vinyl. Our company approaches commercial handrails and railing in a few different ways: we follow pre-developed architect and engineer specifications, we work with your company/architects/engineers to design and develop the layout and specifications for your project, or we can discuss your needs and developed a personalized proposal with layouts and specifications.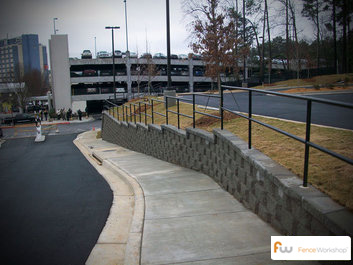 We are fully Insured:
At Fence Workshop™ we are  fully insured.
Professional Experience – Professional Knowledge:
Our company handles many large commercial railing projects in the Southeast each year and is staffed with longstanding professional employees including certified welders. Furthermore, we offer best in class manufacturers' warranties on all our fencing products.
Thanks for considering us for your Southeastern commercial railing and hand railing projects. We look forward to impressing your company and its clients with our professionalism, craftsmanship, value and expertise.
---
Get Started – Shop Our Fences Now!
We know you're getting excited about your new fencing project, and we would love to help. You're just a call or click away from getting started! Our passion is the art of beautiful fences, and we can't wait to share that passion with you to create the dazzling fencing you've been dreaming of. Get started now!
Phone: (404) 973-2911  Email: [email protected]  Get a quote: Online Quick Quote Form