Stone Columns
---
We Supply Stone Columns to Suit any Job:
Fence Workshop™ is your Southeastern source for stone column materials and construction.  Our staff are experienced in providing the perfect stone column or structure to any backyard living space or outdoor property.
Fence Workshop™ Would Love To Supply Your Stone Columns:
If you're looking for quality stone and or brick for your next outdoor project in Florida, Georgia and North Carolina you have arrived at the right spot. From stone columns for your new fence or gate to a beautiful stone dividing wall, Fence Workshop™ can design and supply all the finest in outdoor masonry for outdoor projects in the Southeast.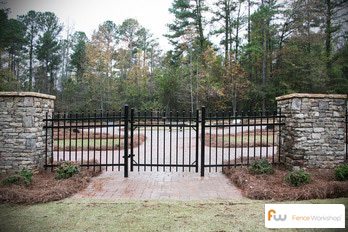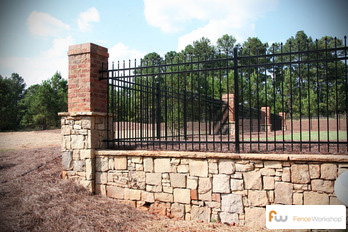 Stone Columns Make a Beautiful Addition to any Fence or Backyard Property: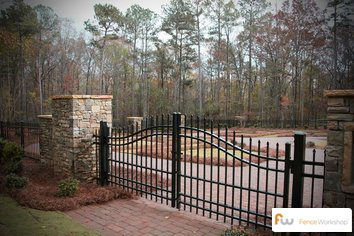 Beautiful stone columns accent our top of the line, custom built fences perfectly. Some of our favorite jobs have stone column work. Stone columns add an extra bit of stability and permanence to any fence. These columns can be incorporated into our beautiful custom built fences, as well as our masterfully designed pergolas and other outdoor structures. Our friendly staff of experts can help you pick out the perfect stone and column combination to suit all of your stone and masonry needs.
We carry all the best stone and masonry building materials:
At Fence Workshop™ we proudly stand behind our work and the products we supply, which come with a best in class manufacturer warranty.
Where does Fence Workshop™ sell Stone Columns?
At Fence Workshop™ we sell stone columns in Georgia, Florida and North Carolina areas like Atlanta GA, Athens GA, Augusta GA, Columbus GA, Macon GA, Savannah GA, Valdosta GA, Destin FL, Jacksonville FL, Orlando FL, Tallahassee FL, Tampa FL, Apex NC, Cary NC, Chapel Hill NC, Holly Springs NC, Raleigh NC, Wake Forest NC and many more.
---
Get Started – Shop Our Fences Now!
We know you're getting excited about your new fencing project, and we would love to help. You're just a call or click away from getting started! Our passion is the art of beautiful fences, and we can't wait to share that passion with you to create the dazzling fencing you've been dreaming of. Get started now!
Phone: (404) 973-2911 Email: info@fenceworkshop.com Get a quote: Online Quick Quote Form