Steel Fencing
---
Fence Workshop™ installs all types of steel fences:
Fence Workshop™ steel fencing is stronger than aluminum and a great choice when looking for a beautiful, strong and long lasting fence. Our steel fences are manufactured here in the United States by Ameristar Fence Products.

About Steel Fences:
Ornamental steel fencing has the look and feel of traditional wrought iron fencing, but without the high maintenance and need to be repainted in the future. Also, our prefabbed panels have the option of shrinking the picket spacing to 2″ 3″ for small dog safety as well. Unlike iron or aluminum, it does not corrode or rust and should never need to be repainted. Aluminum fencing is the lightest of the three.  The number one deficiency of most aluminum fences is insufficient strength durability in the long run. 
A Warning Before Choosing Installers: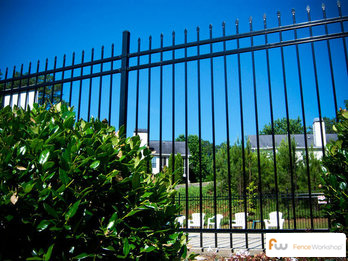 When having an Ameristar steel fence installed by a handyman or local contractor, customers must make sure the installer is a expert and trained by Ameristar. If this is not the case, the industry leading 20 year E-coat warranty can be voided if the product is installed improperly. One example of improper installation is:  drilling weep holes 1/4″ above the concrete footing to allow water and condensation to escape from the inside of the post – not doing this will cause rusting. A precaution we take when installing our fences – we double prime and paint (with Ameristar product paints) any cut or scrape caused from installation on site to prevent rusting on the unprotected surfaces that are hidden to the naked eye after being installed. We go the extra mile with our steel fence
Commercial and Residential Steel Fencing:
Serving the Southeast for just under a decade, our steel fences come in a variety of options and are warrantied by the manufacturer for 20 years. These fences are dipped in zinc and finished with a powder coating. As is with all of our fences, the installation of our steel fence is warranted for 5-years! If you are planning a fencing project in Georgia, Florida or North Carolina, please explore our many options and contact a sales associate with any further questions you may have.
Steel Fences – For Your Home, Business and Community: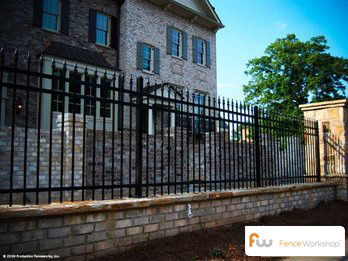 Our steel fences have the look and the feel of iron fences. But unlike iron, they require far less maintenance in the after installation. Our steel fences are much stronger than aluminum, vinyl, composite and wood fences. Our steel fences are there to provide each and every customer in the Southeast with security and safety that ever homeowner should have. We go above and beyond the call of duty and provide the utmost customer service to our customers. To show this fact, if a customer is not fully sure of what is the best for their property, professional designers at Fence Workshop™, will assist each customer to find a steel fence that is just right for them. Please contact us and have all of your fencing needs met.
We are fully Insured
At Fence Workshop™ we are fully insured and only send our certified expert installers to job sites and projects.
Where does Fence Workshop™ install Steel fences?
At Fence Workshop™ we install steel fencing in Georgia, Florida and North Carolina areas like Atlanta GA, Athens GA, Augusta GA, Columbus GA, Macon GA, Savannah GA, Valdosta GA, Destin FL, Jacksonville FL, Orlando FL, Tallahassee FL, Tampa FL, Apex NC, Cary NC, Chapel Hill NC, Holly Springs NC, Raleigh NC, Wake Forest NC and many more.
---
Get Started – Schedule a Free On-Site Estimate Now!
We know you're getting excited about your new fencing project, and we would love to help. You're just a call or click away from getting started! Schedule your free consultation today. Our passion is the art of beautiful fences, and we can't wait to share that passion with you to create the dazzling fencing you've been dreaming of. Contact us today!
Phone: 1-888-802-5252  Email: [email protected]  Schedule a quote: Online Quick Quote Form