Ameristar™ Metal Fencing
---

Choosing the best Ameristar™ fencing system for your property.
Fence Workshop™ supplies Ameristar™ fences all over the Georgia, Florida and North Carolina area. We offer affordable fencing solutions and that meet your business' security needs while also enhancing the curb appeal of your home or company. Fence Workshop™ has worked with companies and homeowners all over the Southeast and understands how to maximize the value of a fencing system for your home or business. We supply all Ameristar™ fence products in throughout the Southeast. If you are looking for one of the best in fences, choose Ameristar™.
Ameristar™ Offers Both Steel and Aluminum Fencing Systems:
Steel Fencing:
Ameristar offers 2 different lines of steel fences – Montage and Aegis. These fence lines are both built with durable steel and differ in two key ways:  Montage fencing features "pro-fusion welding" which makes it much cheaper and creates less cost for labor. The Aegis fencing line draws its structural strength from its "internal Retaining rod".  Because of this feature, the Aegis fencing line is much more customizable and adaptable to different situations. Each line has residential, commercial and industrial upgrades and features making it a perfect fence for any situation. Aegis and Montage steel fences come with the 20 year manufacturers E-Coat warranty.
Aluminum Fencing:
Ameristar offers a great option for customers seeking aluminum fences.. The Echelon fencing line of aluminum fences from Ameristar feature the strength of steel as well as concealed fasteners and is virtually screw-less in appearance.  The Ameristars other fences it the Aegis aluminum fence is great for residential, commercial and industrial applications. The Aegis aluminum fence by Ameristar is nothing short of an amazing fence solution for securing your property.

Ameristar™ Offers Fencing For Every Situation:
Residential Fencing:
Residential Fencing has never been easier or more stylish. Our residential fences by Ameristar are sure to turn heads and please even the most picky of HOA's our beautiful residential fences by Ameristar are just what your home needs. Both aluminum and steel Options are available
Commercial Fencing:
Commercial Fence planning is easier then ever.  Not only do we supply commercial fences by Ameristar, we also help plan everything it will take to construct the best commercial fence for your budget. A key advantage to our commercial fencing is it can get up to 8 feet tall. These commercial fences are upgradable with Impasse and Stalwart security features that are sure to keep out the bad guys and not hurt your bottom line. We offer aluminum and steel options
Industrial Fencing:
Industrial fences from Ameristar are not only easily upgradable with Impasse and Stalwart security features, they look great too. Ameristar offers many different types styles and colors for their industrial fences.  Ameristar fencing products are top of the line and the perfect choice in a cost effective industrial fencing.

About Ameristar™:
Ameristar™ is a leading fence and gate manufacture based in Tulsa, Oklahoma. When it comes to fences and gates, we proudly offer Ameristar™ products. Ameristar™ is the largest ornamental fence manufacturer in the world and has been in business for over a quarter-century. With over 400 American workers, they are unmatched by any other fence and gate manufacturer. While they manufacture both steel and aluminum products, they are most recognized and sought after for the superior structural design, aesthetics, and durability of their steel fences and gates.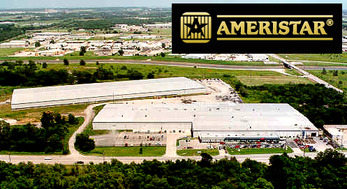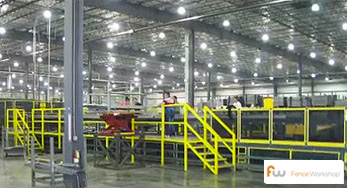 The Masters of Manufacturing:
At Fence Workshop™, we love that Ameristar™ designed, built, and now manufactures their products at an environmentally friendly, high-production facility that our staff has had the pleasure of touring many times. They are the only architectural metal fencing manufacturer who controls all aspects of the manufacturing process to ensure the highest quality. From receiving the raw material to boxing their finished product, it's all done within its own facilities. Furthermore, we love that the products themselves are made from 62% recycled material! This highly efficient manufacturing process ensures a very competitive price point, while Ameristar's superior structural design and premium powder coating systems guarantee a significantly lower, long-term cost.
The Greatest Guaranteee You Will Never Need:
Ameristar™ provides a 5-year warranty on all aluminum products and a 20 year E-coat warranty for all steel products. Ameristar's powder coating process is considered the benchmark standard by which all other manufactures and product coating performance measurements are compared, so you won't have to worry about paint chipping or flaking off of your products.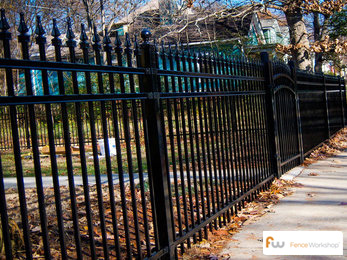 Where does Fence Workshop™ supply Ameristar Fencing?
At Fence Workshop™ we supply Ameristar Fences in Georgia, Florida and North Carolina areas like Atlanta GA, Athens GA, Augusta GA, Columbus GA, Macon GA, Savannah GA, Valdosta GA, Destin FL, Jacksonville FL, Orlando FL, Tallahassee FL, Tampa FL, Apex NC, Cary NC, Chapel Hill NC, Holly Springs NC, Raleigh NC, Wake Forest NC and many more.
---
Get Started – Shop Our Fences Now!
We know you're getting excited about your new fencing project, and we would love to help. You're just a call or click away from getting started! Our passion is the art of beautiful fences, and we can't wait to share that passion with you to create the dazzling fencing you've been dreaming of. Get started now!
Phone: (404) 973-2911  Email: info@fenceworkshop.com  Get a quote: Online Quick Quote Form