Montage® Fencing
---
Montage® Fence Supply:
Fence Workshop™ is an expert supplier of Ameristar Fence Products .  That means we have all the skills and know how it takes to provide your new Montage® steel fence! We have spent the time at the Ameristar™ facilities in Tulsa, Oklahoma to earn that prestigious title. Being an Ameristar™ preffered supplier also means that when we supply your new Montage® Steel Fence, you get an Ameristar™ best in class manufacturer warranty.  Making your new fence certified to stand the test of time.
Choose Your Steel Fence Panel:
Click below on the steel fence style of your choice to read more about it, see average per foot pricing, see larger images and also see corresponding steel gate styles.
Montage® Accessories:
Montage® Gates:
Click to See Montage® Steel Fencing For Commercial and Industrial Applications:
Strong and Lasts Long:
Our steel fences are stronger than aluminum fences but manufactured to resist rust and last just as long! Steel fencing is stronger than aluminum and a great choice when looking for a beautiful, strong and long lasting fence. Our steel fences are manufactured here in the United States by Ameristar™ Fence Products.
ATF™ (All Terrain Fencing)Rakable Steel Fence Panels:
A rakable steel fence panel is one that can adjust to the slope of your land without being stair stepped. Solid steel panels, like those sold at major home improvement stores, must be stair stepped whenever there is an increase or decrease in your properties elevation. By stair stepping a fence, it creates unsecured gaps at the bottom that allow people and animals in and out. Furthermore, a stair stepped fence will have a jagged top fence line, jumping up and down every time there is a slope in the land. Our rakable fence panels are far superior to solid panels, as they allow for a much more secured fence, as well as a smooth and aesthetically pleasing top line.
More About Montage® Fences by Ameristar™: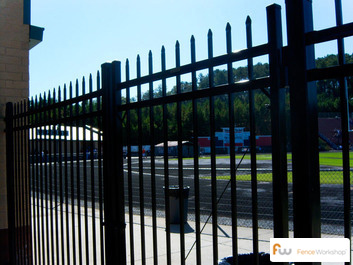 Known for its strength and versatility, Ameristar™ Montage® fences are the perfect choice for any residential, commerical or industrial situation. Montage® fencing systems have quickly become renowned for their superior quality. No other fencing system offers the value, strength and security of the Montage® fencing system. Montage® fences are available in three colors: black, bronze, and desert sand. The Montage® fencing system by Ameristar™ represents an amazing break through in ornamental fence manufacturing technology. These fencing systems feature fusion welding. A feature that sets Ameristar apart.
A Strong Fence:
Montage® fences combine the strength of steel with the longevity of aluminum. Residential grade aluminum fencing does not offer the structural integrity of steel but steel is susceptible to rust and corrosion.  Montage® fences are protected with an E-Coat process proven in the automotive industry to ensure the application coverage of all exposed surfaces. Read more about Montage® Fences and Gates on the Ameristar Fence Website.
Check Out These High Strength Fences Being Made:
Additional Montage® Resources:
For more information on the Montage® fence, please take some time to check out the Ameristar Fence website look at these helpful PDF's:
Where does Fence Workshop™ supply Montage® Steel Fencing?
At Fence Workshop™ we supply Ameristar™ Fences in Georgia, Florida and North Carolina areas like Atlanta GA, Athens GA, Augusta GA, Columbus GA, Macon GA, Savannah GA, Valdosta GA, Destin FL, Jacksonville FL, Orlando FL, Tallahassee FL, Tampa FL, Apex NC, Cary NC, Chapel Hill NC, Holly Springs NC, Raleigh NC, Wake Forest NC and many more.
---
Get Started – Shop Our Fences Now!
We know you're getting excited about your new fencing project, and we would love to help. You're just a call or click away from getting started! Our passion is the art of beautiful fences, and we can't wait to share that passion with you to create the dazzling fencing you've been dreaming of. Get started now!
Email: info@fenceworkshop.com