Unchain That Dog: Every Dog Deserves a Fence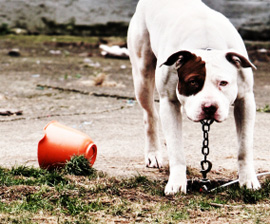 At Fence Workshop™, we put dogs first, right alongside our customers. As a company, we work hard in the fight to reduce the number of dogs that are chained to a tree or stake. Over 200,000 dogs live empty lives chained up or tethered outside. If you know a dog that spends his or her life chained down and treated inhumanely, don't hesitate to do your part to help eliminate the problem. Check out the Humane Society's Guide to Helping Chain Dogs. This organization works with dog owners to find solutions to chaining their dogs as well as relocating a dog when necessary.
1. A dog kept chained alone in one spot for long periods can suffers immense psychological damage and sadness. An otherwise friendly and happy dog, when kept continuously tethered, becomes unhappy, neurotic, bored, anxious, defensive and often aggressive.
2. Dogs that are tethered for long periods can become highly aggressive. If a dog is unable to take flight, it's natural tendency is to fight. It's estimated that over 25% of fatal attacks are inflicted by chained dogs.
4. In many cases, the necks of chained dogs become raw and covered with sores. In the most serious cases, dogs' collars can become embedded in their necks, the result of years of neglect at the end of a chain. Chained dogs frequently become entangled in their chains and become unable to access food, water, and shelter. In some cases, collars and chains have caused suffocation and death.
5. Dogs forced to live on a chain make easy targets for other animals, humans, and biting insects. A chained animal may suffer harassment from passers-by, stinging bites from insects, and attacks by other animals.
6. By eliminating the chain and providing a dog-safe fence, you can drastically improve the phycological life of your dog. Dogs love our dog fences!
Is it illegal to chain a dog?
The answer to this depends on your location. Furthermore, some locations allow dogs to be tethered but for a limited time only. You can read the laws for dog tethering here. Whether illegal in your area or not, we strongly encourage against it. Please do the right thing and Unchain That Dog!
Dog Fence Solutions
At Fence Workshop™, we have dozens of dog fences to choose from. From wood privacy and picket to chain link and metal, we have a dog fence for every dog and for every budget. We supply dog fences in Atlanta, Athens, Marietta, Alpharetta, Apex, Raleigh, Jacksonville, Savannah and more.
Get Started – Shop Our Fences Now!
We know you're getting excited about your new fencing project, and we would love to help. You're just a call or click away from getting started! Our passion is the art of beautiful fences, and we can't wait to share that passion with you to create the dazzling fencing you've been dreaming of. Get started now!
Phone: (404) 973-2911 Email: info@fenceworkshop.com Get a quote: Online Quick Quote Form