Dog & Pet Fencing
---

Dog Fences: An Amicable Relationship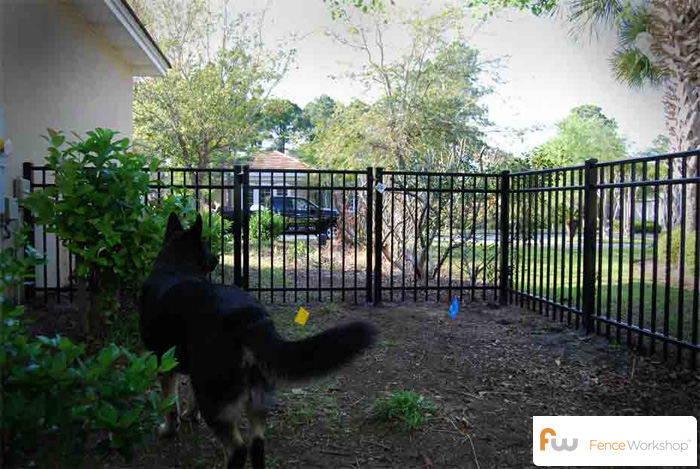 Owners love their dogs, and dogs love boundaries. Dogs innately are trained to patrol and protect the territory around them. Boundaries are important to dogs, which is why it is important to clearly define your dog's boundaries with a fence. Whether they know it or not, dogs need fences to make their patrol area manageable. Your dog wants to protect you just as much as you want to protect him, so make it easy by installing a fence that clearly marks his territory and keeps him safe from wandering and other animals.
Dog fences supplied by Fence Workshop™ were made with your furry friend in mind. We offer several aluminum fence styles that are known as "puppy picket" styles which means that they are double spaced at the bottom of each fence panel. This means that small animals are more secure, with about a 1.5″ space picket to picket versus just under 4″ space on standard aluminum panels. Plus, they are aesthetically pleasing and allow you and your pet to look out from your outdoor oasis.
At Fence Workshop™ affordability and quality are standards we adhere to when supplying our dog fences. Pet safe fencing for your dogs is easy and stress-free with our all inclusive fence packages and up-front, no gimmicks pricing.  We supply and deliver our dog fences to Georgia, Florida, North Carolina and all across the Southeast. Dog fencing is essential for providing a suitable home for your four legged friend and our dog fencing options are some of the best in the Southeast. Don't settle for wires in the ground that won't protect your pets from other animals and could allow people to have an unsafe encounter with your pet.
Dog Fencing Options:
Style, budget, and your dog's breed are important factors to consider when planning your dog's new fence. At Fence Workshop™, we're surprised by the number of people who consider pet safe dog fencing unattractive and worry it will ruin their yard and landscape. Our eye-catching "Athens" style aluminum fence can accommodate even the most picky dog owners. If you don't have a fence and are planning on getting a dog, Fence Workshop™ would love to work with you to create beautiful fencing that will add to the value of your home and keep your new pet safe!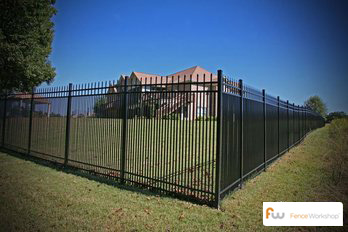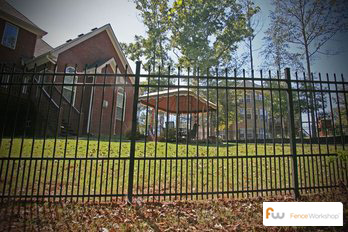 Our High Quality Dog and Pet Fence Materials
Fence Workshop™ supplies dog and pet fencing in a variety of styles and materials. Some of the most popular choices among our customers are aluminum fences, Steel Fences, and more. Each type of fencing provides specific advantages. For example, our prefabbed aluminum or steel panels have the option of shrinking the picket spacing to 2″ 3″ for small dog safety. We invite you to leave the hassle of planning a pet safe dog fence to the friendly professionals at Fence Workshop™. We will save you time and work within your budget to create great-looking fencing you and your pet will love!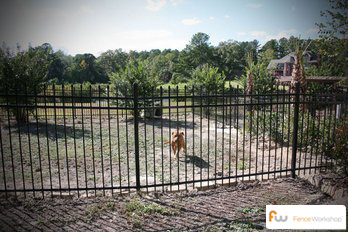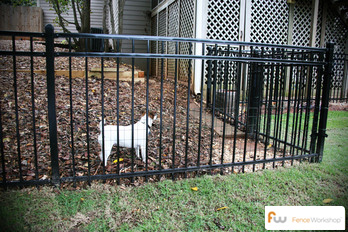 Dog Fencing In a Nutshell
There are a wide variety of ways to confine your dog, but some provide more safety and security than others. If you value the ability to let your dog run free in your yard without having to worry about either your pet's safety or the safety of others who might encounter your pet, we recommend high quality fencing that you can trust. Aluminum fencing is great for DIY-ers because they are easier to install than wood or wrought iron fencing which typically require the help of professional installers. Plus, our aluminum fences can rack with the contour of the ground, making sure that gaps at the bottom of the fence are mitigated. No system is perfect, but if you have a dog, installing secure fencing will help your dog lead a healthier, happier life.
Metal Dog Fencing Options:
For information on our easy to order, easy to install metal dog fencing style options, check them out below:
– Avalon Style
– Berkley Style
– Cobb Style
Where do We Supply Dog Fencing?
At Fence Workshop™ we supply dog fences in Georgia, Florida and North Carolina areas like Atlanta GA, Athens GA, Augusta GA, Columbus GA, Macon GA, Alpharetta GA, Marietta GA, Conyers GA, Lawrenceville GA, Woodstock GA, Braselton GA, Orlando FL, Apex NC, Cary NC, Chapel Hill NC, Holly Springs NC, Raleigh NC, Wake Forest NC and many more. As always, we provide a 5-Year Installation Warranty with all fences we install.
---
Get Started – Shop Our Fences Now!
We know you're getting excited about your new fencing project, and we would love to help. You're just a click away from getting started! Our passion is the art of beautiful fences, and we can't wait to share that passion with you to create the dazzling fencing you've been dreaming of. Contact us today!
Email: info@fenceworkshop.com