Residential Fencing
---

---
Fencing From the Experts:
Fence Workshop™ supplies affordable residential fencing for our customers in Atlanta GA, Jacksonville FL and Raleigh NC. From wood privacy fencing to vinyl post & rail, Fence Workshop™ provides the Southeast with the largest selection of residential fencing. Nationally, as an investment, the average fence pays for itself and returns 5-11% through the equity of your home. Not to mention all the obvious advantages of a new residential fence: increased security, privacy, and beauty. Do it right and do it with confidence by contacting us today to help you tackle your next residential fencing project here in the Southeast!
Check Out Our Selection Of Residential Fence Options:
About Our Services:
At Fence Workshop™, we strive to treat each and every residential customer alike, while taking into considering your unique needs. Whether commercial or residential, we put forth the same high quality effort in every single job that we do. Whether you live in Florida, Georgia, North Carolina or anywhere in between, we will supply you with your choice of fence with your complete satisfaction in mind. The variety of fencing styles we offer are sure to meet the needs of even the most demanding customer. Our fencing materials include wood, vinyl, metal, and chain link fences. All of our products carry a best-in-class manufacturer's warranty and are of the highest quality in the industry.
We Also Provide a Number of Residential Fence Services:
Residential Fencing Company: 
Residential fences turn an ordinary home into an extraordinary one, while providing much needed security, safety, and privacy. Fence Workshop™ is a leading supplier of residential fences in the Southeast. We strive to provide each customer with unmatched service from end to end in the purchasing process and provide the best fencing knowledge any fence supply company can offer. 
What Sets Our Residential Fencing Service Apart: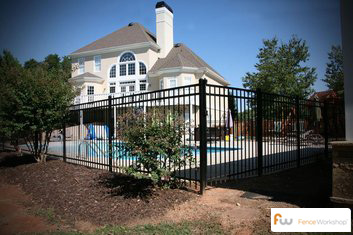 We work closely with customers, listening to their needs to provide a well packaged, beautifully constructed and easily installed fence that will dramatically improve our customer's outdoor space. This starts with providing a variety of styles and materials based on customer demands, whether it is a vinyl coated chain link, wood, steel, aluminum or wrought iron fence. Aside from fences we also offer gates, security enhancements, and other fencing products to enhance any residential or commercial property. Furthermore our customer service goes beyond the call of duty, from the initial contact to the end of the delivery process, resolving any issues customers may have or problems that may become apparent. By choosing Fence Workshop™, you can rest assured that the fence you purchase will be of the highest quality that you can be proud of for years to come.
Where does Fence Workshop™ sell Residential Fencing?
At Fence Workshop™ we sells residential fencing in Georgia, Florida and North Carolina areas like Atlanta GA, Athens GA, Augusta GA, Columbus GA, Macon GA, Savannah GA, Valdosta GA, Destin FL, Jacksonville FL, Orlando FL, Tallahassee FL, Tampa FL, Apex NC, Cary NC, Chapel Hill NC, Holly Springs NC, Raleigh NC, Wake Forest NC and many more.
---
Get Started – Shop Our Fences Now!
We know you're getting excited about your new fencing project, and we would love to help. You're just a call or click away from getting started! Our passion is the art of beautiful fences, and we can't wait to share that passion with you to create the dazzling fencing you've been dreaming of. Get started now!
Phone: (404) 973-2911  Email: [email protected]  Get a quote: Online Quick Quote Form