Go Back
Fence Designs
---
Southeastern Fence Design: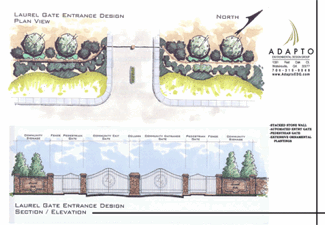 Professional fence and landscape designs are a click away. Contact Fence Workshop™ today to schedule an estimate.We understand that designing a fence for your home or business should be taken seriously. Look to Fence Workshop™ for custom and professionally designed fences, gates, arbors, entranceways and more. As an associated company to Adapto Environmental Design Group, Fence Workshop™ provides Georgia, Florida, North Carolina and South Carolina with a new level of fence designs. From fencing for historic preservation to world class neighborhood entranceways, no project is too large or detailed for our highly talented group of designers.
Design Criteria & Location Considerations for Fencing:
Fence Utility
The most important design factor is what you need your fencing or screening to do. Common fence and privacy screen requirements include: creating visual privacy, limiting access to the property, providing security as a barrier to entry, defining a property line, enclosing a pool or play area, creating wind resistance or shade, and creating a backdrop for viewing a garden. The requirements of the fence will also impact:
-Height (the standard 6 foot can be substituted to your individual desire)
-Terrain following (with multiple levels)
-Flow around a natural landmark (tree, boulder or stream)
-Privacy (using solid fencing)
-Access by pathways and gates
-Built-ins (plant containers, benches, privacy nooks, plant shelves, vine trellises, and lanterns)
-Utilities (electricity for lights and access to water outlets should be considered when building your fence)
Neighbors & Your Property Line
Before a design is approved, it is very important to obtain consensus with all your neighbors on the style, height, orientation, and finish of the proposed fence. It is also wise to verify the official property line and work out construction access and pet containment before the fence work begins. If you are unsure of your property lines, your project manager will attempt to find preexisting ground stakes.
View
A fence provides a natural way to obscure the surrounding neighborhood or highlight views of your garden. Consider what you do and don't want to see, both walking around and sitting. Framed openings can highlight a distant focal point.
Wind
In areas that experience high winds, a more open fence design, extra bracing, and heavy duty hardware may be needed. Prevailing winds may create the need for the fencing to create an area of wind resistance or protection.
Water
Excessive moisture (from rain, hosing down, sprinklers and deep shade) can lead to premature aging, structural damage from rot and musty smells. The fence should be designed to shed rain and dew readily and have good drainage away from the site, leaving no standing puddles. For a long life, ivy and heavy vines should be kept off the fence with a climbing trellis mounted in front to minimize contact. For the longest life, the structure/fence should be allowed to dry out well after raining or watering plants, especially if you plan for it to support vines.
Material & Design Options For Wood Fences:
Materials
To maximize the life expectancy, the frame should be made of pressure treated lumber set in steel column bases. The posts and fence boards can be made from Redwood, Pine, Cedar, or Cypress. Better wood grades and thicker fence boards and beams lengthen the life expectancy of your fencing.
Finishes
Heat and light contribute to weathering, so a UV protective finish is important. If it will eventually be covered with hard to remove plants, it is very important to apply multiple coatings. Stains (clear, tinted, or solid) and paint are popular finish choices.
Accessoires & Built-ins
Trim, moldings, lattice, post caps, finials and fence art add to the uniqueness of your fence. Adding accessories can enhance your fence's functionality. These include built-ins such as benches, privacy nooks, plant containers and shelves, vine trellises, and lanterns.
Metalwork
Accents, such as copper post caps or blackened iron joining straps, can enhance the appearance of your fence or screening.
Lighting
The choice of lighting style and fixtures (solar lights, such as lanterns hung from posts, mounted sconces, and spot lighting) can create an immediate sense of style.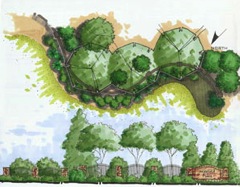 Careful care and consideration is put into every fence and matching landscape that we design. At Fence Workshop™ we specialize in the unique and the high end, as well as top of the line basic fence design.
Have your Project Professionally Designed with Fence Workshop™:
If you are interested having your fence professionally designed by Fence Workshop™, just give use a call or shoot us an email to schedule a no-obligation consultation with one of our highly trained and experienced project managers.
Professional Renderings
Looking for professionally designed renderings of your project? Contact our staff toll free at 1-888-802-5252 for details, pricing and to get started with a professional rendering of your project.
---
Get Started – Shop Our Fences Now!
We know you're getting excited about your new fencing project, and we would love to help. You're just a call or click away from getting started! Our passion is the art of beautiful fences, and we can't wait to share that passion with you to create the dazzling fencing you've been dreaming of. Get started now!
Phone: (404) 973-2911  Email: [email protected]  Get a quote: Online Quick Quote Form