---

Here at Fence Workshop™, we specialize in vinyl fencing supply and delivery. In fact, we supply and deliver beautiful and long lasting vinyl fences in a variety of styles nationwide. Vinyl fencing provides some serious advantages when compared to other types of fencing. If you're looking to buy vinyl fence online, Fence Workshop wants to be your trusted supplier. Find out why vinyl fencing might be your best choice for your home or commercial fencing project.
Vinyl Fencing Cost
Even though vinyl fencing costs about one third more than wood fencing and is almost the same price as metal, steel, or wrought-iron fencing, the difference comes when it's time to repair and replace in the future. Vinyl fencing requires far less maintenance than wood fencing or steel or wrought iron fencing. With vinyl fencing, you don't ever have to worry about warping boards, bug infestations, or rust or corrosion. That equals savings in the long run.
Fence Workshop provides upfront pricing on all of our vinyl fence panels, posts, and gates, and makes delivery simple. We offer a variety of styles, and all of our vinyl products are manufactured following the highest standards and most advanced technologies to create a better product than you'll find in big box retailers.
Vinyl Fencing Options
Repair, Replacement, Regular Maintenance – 3 Things You'll Avoid With Vinyl:
Vinyl Fencing needs little repair or maintenance when installed correctly, especially when compared to other popular fencing types. Corrosion can become a problem with some metal fencing options. Termites, warping, and regular painting are all disadvantages to wood. However, with a Vinyl fence from Fence Workshop™ these problems are avoided almost entirely. When it comes to maintaining your vinyl fence, a good pressure washing and a light detergent is all you need.
Browse Fence Workshop's Vinyl Fencing Style Options
Fence Workshop offers a wide variety of styles in vinyl privacy fencing, vinyl picket fencing, and vinyl post and rail fencing. Check out our online store for all of our options and pricing!
Vinyl Privacy Fence Panels, Posts, and Gates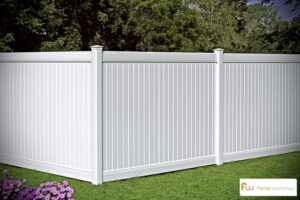 One of the main reasons customers look for fencing online is the need for privacy for their home or business. Vinyl privacy fence is a great solution for those looking for both privacy and durability in their fencing. It is a great alternative to wood privacy fencing, which will warp over time and may struggle with rot and bug infestation. Vinyl privacy fencing comes in a variety of styles and heights. Looking for a fence to secure your pool area? Vinyl privacy fencing is the perfect solution! For those looking for vinyl privacy fencing with some air flow, consider our vinyl semi-privacy options!
Vinyl Picket Fence Panels, Posts and Gates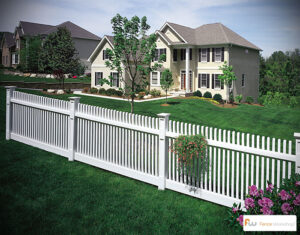 Vinyl picket fencing is the perfect facelift for your home or business. Elevate your space with an arched spear top picket fence, or scalloped walk gate. Fence Workshop carries a variety of vinyl picket fence styles, so you're sure to find the perfect solution for your outdoor project.
Vinyl picket fencing is easy to install, especially when you use our detailed vinyl fence installation guides! Not a DIY-er? No problem! Simply use your general contractor to install your new vinyl picket fencing to ensure your fence is installed correctly and professionally, without ever breaking a sweat.
Vinyl Post and Rail Fencing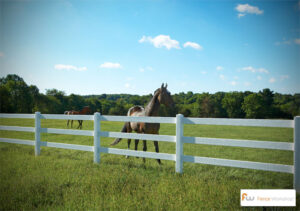 Looking for vinyl post and rail fencing for your home or property? Look no more! Fence Workshop offers a variety of vinyl post and rail options for your outdoor project. Nothing frames the rolling hills and meadows of your property or farm land like the clean look of white vinyl post and rail fencing. Easy to install and durable for your large livestock animals, vinyl post and rail fencing is the obvious answer for long lasting fencing where you need it. Wood post and rail rots over time in the elements and ends up looking run down after only a short time. Furthermore, termites can infiltrate and destroy wood fence posts without you ever knowing until it's too late. Avoid these maintenance issues when you choose vinyl post and rail fence.
Advantages to Installing Vinyl Fencing:
Sales of vinyl fencing supply have been trending upward for the past 8 years, averaging about a 30% growth each year. It's clear that vinyl fence installation is a popular and viable option. A distinct advantage over wood and steel fencing is its resilience. Vinyl fences will "give" under major stress or fence trauma, popping out of post holes, but never breaking or splintering, which can hurt people, pets and even large animals. Fence Workshop™ has these advantages and more in mind when choosing our high quality manufacturers of our vinyl fences.
All of our vinyl fences use bracket-less systems, making a more durable, easy to assemble and install vinyl fence. Use our detailed installation guides to help you or your general contractor execute a professional grade vinyl fence installation!
Where does Fence Workshop™ Deliver Vinyl Fences?
At Fence Workshop™ we supply and deliver vinyl fencing nationwide! We most frequently service the Southeast in places like Georgia, Florida and North Carolina areas like Atlanta GA, Athens GA, Augusta GA, Columbus GA, Macon GA, Savannah GA, Valdosta GA, Destin FL, Jacksonville FL, Orlando FL, Tallahassee FL, Tampa FL, Apex NC, Cary NC, Chapel Hill NC, Holly Springs NC, Raleigh NC, Wake Forest NC and many more.
---
Ready to purchase high quality vinyl fencing supply and materials? Our easy-to-use online shop makes purchasing beautiful new fencing a breeze! Browse our selection of fences and with just a few clicks, your new fencing can be delivered to your doorstep. We can't wait to work with you!
Phone: (404) 973-2911 Email: [email protected] Get a quote: Online Quick Quote Form