Vinyl Fencing
---
Fence Workshop™ installs beautiful and long lasting vinyl fences in Georgia, Florida and North Carolina. Vinyl Fencing provides some serious advantages when compared to other types of fencing. Even though vinyl fencing costs about one third more than wood fencing and is almost the same price as metal, steel, or wrought-iron fencing, the difference comes when it's time to repair and replace in the future.
Repair, Replacement, Regular Maintenance – 3 things you'll avoid by going Vinyl: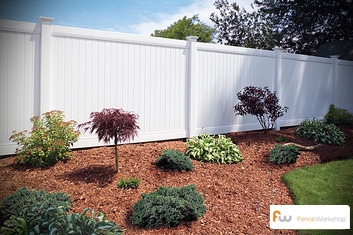 When installed by the experts at Fence Workshop™, Vinyl Fencing needs little repair or maintenance, especially when compared to other popular fencing types. Corrosion can become a problem with some metal fencing options. Termites, warping, and regular painting are all disadvantages to wood. However, with a Vinyl fence from Fence Workshop™ these problems are avoided almost entirely. When it comes to maintaining your vinyl fence, a good pressure washing and a light detergent is all you need. 
Advantages to Installing Vinyl Fencing:
Sales of vinyl fencing have been trending upward for the past 8 years, averaging about a 30% growth each year. It's clear that vinyl fence installation is a popular and viable option. A distinct advantage over wood and steel fencing is its resilience. Vinyl fences will "give" under major stress or fence trauma, popping out of post holes, but never breaking or splintering, which can hurt people, pets and even large animals. Vinyl fencing is only available in lighter colors, because darker colors absorb more heat from the sun, which can cause warping and bending as well as other undesired effects. Fence Workshop™ has these advantages and more in mind when planning, building, designing, or supplying your vinyl fence. When looking for experienced vinyl fence installation experts in Georgia, Florida or North Carolina, Fence Workshop™ is your source.
Beautiful Vinyl Privacy Fencing Options:
Where does Fence Workshop™ install vinyl fences?
At Fence Workshop™ we install vinyl fencing in Georgia, Florida and North Carolina areas like Atlanta GA, Athens GA, Augusta GA, Columbus GA, Macon GA, Savannah GA, Valdosta GA, Destin FL, Jacksonville FL, Orlando FL, Tallahassee FL, Tampa FL, Apex NC, Cary NC, Chapel Hill NC, Holly Springs NC, Raleigh NC, Wake Forest NC and many more.
---
Get Started – Schedule a Free On-Site Estimate Now!
We know you're getting excited about your new fencing project, and we would love to help. You're just a call or click away from getting started! Schedule your free consultation today. Our passion is the art of beautiful fences, and we can't wait to share that passion with you to create the dazzling fencing you've been dreaming of. Contact us today!
Phone: 1-888-802-5252  Email: info@fenceworkshop.com  Schedule a quote: Online Quick Quote Form