Atlanta Privacy Fencing
---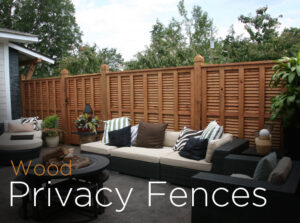 Fence Workshop is an expert in all facets of wood fencing. Whether you are purchasing your own materials to install yourself, or you just want to make sure your installer is doing top quality work, we'll provide all the information you need to become a wood fencing expert in no time.
Wood Privacy Fencing
Wood privacy fencing can be found almost anywhere you look. They are a great choice for those looking to secure their properties from intruding animals or to establish a private oasis for your family and friends around the pool. Privacy fences are typically anywhere from 4ft to 8ft in height and panels should be built anywhere from 6ft to 10ft in length between posts. Your post size and style should reflect how decorative your wood privacy fence will be. If you're adding a top cap or fascia boards and have exposed posts, you may consider using 6×6 pressure treated posts instead of 4×4 pressure treated posts. 6×6 posts are obviously larger, heavier, and will be more sturdy than 4×4 posts. 4×4 posts are usually sufficient for basic privacy fences with hidden posts, using just pickets and standard framing boards. Post length should be at least two feet greater than your fence height, as you or the installer should be submerging it anywhere from 18 – 24 inches into dirt. It is generally recommended to use Pressure Treated posts as they tend to hold up better overtime underground, delaying the rotting process. Wet concrete should be used to secure the posts in the post holes – you can take additional precautions to secure the post such as rebar or gravel to help protect the viability of the post and subsequently, your entire fence.
A Modern Trend
There has been a large increase in requests for horizontal board fences. These modern and contemporary style fences are popular throughout the west coast as well as contemporary and modern designed homes and businesses. A horizontal board privacy fence is a great way to modernize the look of your bungalow house to create that transitional look that has become so popular in Atlanta. Modern horizontal board privacy fences most commonly are built to surround patios and small backyards.
Pine + Cedar
Should you build your fence from pressure treated pine or cedar lumber? How about both? While we supply bamboo, oak and other hardwood privacy fences, we often recommend pine and or cedar because of it's lower cost. Whether you use pine or cedar pickets, we suggest to always use pine posts. The reason being, pressure treated pine posts are much more rot resistant when placed in moist ground. Cedar on the other hand is much less likely to warp and bend, therefore it makes for a better fence picket than pine.
Atlanta Fence Codes and Building Guidelines
How tall can your privacy fence be in Atlanta?
Within the city of Atlanta, fences, walls or hedges may occupy required yards as follows;
(a) In the following dwellings districts, R-1, R-2, R-3, R-4 and R-5, fences not exceeding four (4) feet in height may be erected in the front yard. Fences or walls not exceeding six (6) feet in height may be erected or maintained in side or rear yards.
(b) In the following residential general (R-G) district, fences not exceeding four (4) feet in height may be erected in the front yard. Fences or walls not exceeding eight (8) feet in height may be erected or maintained in the side or rear yards.
(c) The provisions of (a) and (b) above notwithstanding, in any dwelling district no fence or wall exceeding two and one-half (2 1/2) feet in height, as measured from the grade at the intersecting street right-of-way lines, shall be erected or maintained within 20 feet of any street intersection.
(d) In all other districts, fences may be erected or maintained within any required yard provided they shall not exceed nine (9) feet in height."
Do I need a permit to build a privacy fence in Atlanta?
According to Atlanta City Ordinance, a building permit is required "to construct, erect, demolish, install, alter or repair any building, structure, equipment, appliances with a total valuation of less than $2,500. A building permit is not required for repair work with a total valuation of less than $2,500, provided such work is otherwise lawful. Repair work means in-kind repairs which do not add to, alter, or otherwise modify the building or structure. Here are more Atlanta building permit FAQ's.
Who do I call to mark underground utilities and hazards in Atlanta?
Checking for underground utilities is crucial if you want to avoid costly repairs to electrical or gas lines. Call 811 before you dig. .
We Specialize In Many Different Types of Fencing In the Atlanta, GA Area:
---
Just a few of our other service areas…
---
Get Started – Shop Our Fences Now!
We know you're getting excited about your new fencing project, and we would love to help. You're just a call or click away from getting started! Our passion is the art of beautiful fences, and we can't wait to share that passion with you to create the dazzling fencing you've been dreaming of. Get started now!
Phone: (404) 973-2911 Email: info@fenceworkshop.com Get a quote: Online Quick Quote Form