Custom Wood Privacy Fences Atlanta | Pine & Cedar Fence Builders
Custom Wood Privacy Fences Atlanta
---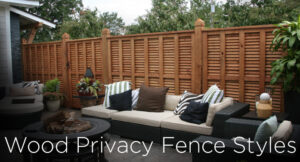 Looking to get a new wood privacy fence in Atlanta? Trying to find the right style, price and company or contractor for your fence project? Fence Workshop is an expert in all facets of wood fencing. Whether you are purchasing your own materials to install yourself, or you just want to make sure your installer is doing top quality work, we'll provide all the information you need to become a wood fencing expert in no time.
Choosing the Right Lumber
Need some quick help deciding what kind of wood privacy fence you want to build for your home in Atlanta? Let's start by choosing the material. At Fence Workshop™, we most commonly suggest wood privacy fences be built from pressure treated pine and or cedar lumber. The big differences in these two materials are the look and dimensional stability.
MCG pressure treated pine has a light and very natural color that will turn a golden brown over time. Because of it's strength and lower cost, pine is most commonly the best choice for the fence posts. If the fence is not placed in direct sunlight, pine pickets are an excellent choice as well. If the fence is in direct sunlight, cedar pickets will be a much better option since they are less likely to warp as the lumber dries out.
Western red cedar lumber has a reddish tent and as always, a wonderful cedar smell. Cedar is a very dimensionally stable material and is unlikely to warp. Cedar lumber is naturally resistant to decay and is best maintained with sealant.
Pine + Cedar Privacy Fences
Since pine is best used for posts and cedar is best used for pickets, building a fence with both pine and cedar is almost always the way to go.
Choosing the Style
Now that you know what material you will want to use, you can select the specific style. Here are a list of things to consider when selecting a style.
-Do you want visibility through the fence?
-Do you need the fence to look the same on both sides (good neighbor style)?
-Do you want the fence posts to be visible/exposed?
-How tall do you want the fence to be? What is your budget?
Knowing the answers to these simple questions will really help to narrow down the different style options so you can find the perfect wood privacy fence for your home in Atlanta.
---
Choosing the Right Atlanta Fence Installer Company
While we don't offer installation services directly, we can give you tips on what to look for when choosing an installer. Make sure your fence installer is licensed and insured and knowledgable in the latest installation standards. Ask them how they secure the fence posts and at what depth, how many rails of framing they'll include, and what kind of warranty they include on their installation practice and materials. If your property has inclinations and declinations, know whether the fence will be built to follow the contour of the ground, or if it will be stepped. The latter will create gaps at the bottom of the fence but may be more aesthetically pleasing depending on the style of wood fence you've chosen. Wood gates can become a source of frustration overtime as the natural material is bound to make movements due to weather changes and general use. Know what your installer is doing to mitigate these issues. One such precaution is using Cedar framing on gates to reduce the weight. Another good standard to follow is the use of 6×6 posts on all wood gates, regardless of size, as they'll be stronger and less likely to sag. Remember, the key to avoiding any surprises along the way is to do your research and ask the right questions before mistakes are made!
We Specialize In Many Different Types of Fencing In the Atlanta, GA Area:
Get Started – Shop Our Fences Now!
We know you're getting excited about your new fencing project, and we would love to help. You're just a call or click away from getting started! Our passion is the art of beautiful fences, and we can't wait to share that passion with you to create the dazzling fencing you've been dreaming of. Get started now!
Phone: (404) 973-2911 Email: info@fenceworkshop.com Get a quote: Online Quick Quote Form