Farm Fences Orlando, FL
---
Contractors, Companies and Supply:
Looking for the right company to supply farm fencing for your property in Orlando, Florida? At Fence Workshop™ we have one of the highest levels of experience supplying wood and wire farm fencing, post and rail farm fencing and more. We specialize in building Orlando farm fences for horses, cows, goats and other farm animals. When most people think of Orlando they only think of the downtown attractions like Disney World and the Mall of Millennium. However, Orlando is full of wide open properties found throughout its neighborhoods like Winter Park, Longwood and Clermont. These places are full of large properties that need fences for their farms or land.
What Sets Our Orlando Farm Fences Apart:
Because of our experience, we understand just how curious animals can be around a new fence. Horses for example, will generally test a new fence by leaning and pawing against it. We understand what materials, procedures and precautions to take to ensure our farm fences stand the test of time and curiosity of large animals.
Why choose Fence Workshop for farm fencing in Orlando, Florida?
We supply all styles of farm fencing (wood & wire, post and rail, t-post & barbed wire, galvanized and black vinyl coated hog wire, no-climb horse fencing).
Our farm fences come with a best in class manufacturer warranty.
We service Orlando, FL and surrounding areas like Tampa, Jacksonville, Daytona Beach, Destin and more.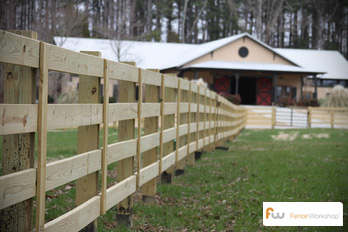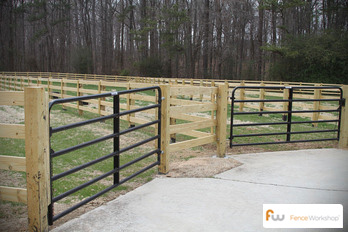 We Also Supply These Other Types of Fencing in Orlando, FL:
---
Get Started – Shop Our Fences Now!
We know you're getting excited about your new fencing project, and we would love to help. You're just a call or click away from getting started! Our passion is the art of beautiful fences, and we can't wait to share that passion with you to create the dazzling fencing you've been dreaming of. Get started now!
Phone: (407) 490-1277 Email: [email protected] Get a quote: Online Quick Quote Form