Fencing for Homes in Orlando, FL
---
Looking for a new fence for your home in Orlando, FL? When it comes to supplying residential fences and gates, Fence Workshop is your go-to Orlando fence company. We're one of the largest suppliers of aluminum, steel, chain link and vinyl fences in Orlando. We work closely with our customers to provide a fence-buying experience that is as hassle free and efficient as possible. Not to be outdone by our competitors, we provide unique options such as fence packages to simplify the process and take all of the guess work out of purchasing your new fence. At Fence Workshop, we understand that your home is your oasis, and the fence that you purchase for it should exemplify quality craftsmanship and thoughtfulness to your unique home and surroundings. So if you're looking for residential fence suppliers in Orlando FL, be sure to give us a call today!
Fencing for Traditional Homes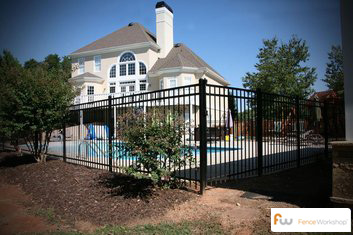 Because traditional style aluminum fencing makes up over 90% of home fences we sell, we're not short of options. We have dozens of aluminum picket styles as well as vinyl and metal fence styles that look beautiful with all traditional homes. The vertical pickets can be installed one next to the other for ultimate privacy, or they can be spread apart in a number of ways to create interest and give you just the right fit for your home. Typically our traditional fence styles have an emphasis on vertical lines compared to other modern fence styles that have and emphasis on horizontal lines.
Fencing for Modern & Contemporary Homes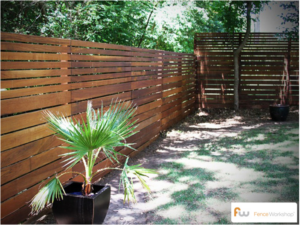 While Fence Workshop Orlando does not currently provide modern wood fences, we still love the style and look they provide for modern homes! From horizontal board wood privacy fences to flush top metal fences, we understand the simplicity and structure that goes into modern design. Send us an email, we may be able to help you order a modern style fence or help you find the right installer to help you with your vision.
---
Get Started – Shop Our Fence Styles Now!
We know you're getting excited about your new fencing project, and we would love to help. You're just a click away from getting started! Our passion is the art of beautiful fences, and we can't wait to share that passion with you to create the dazzling fencing you've been dreaming of. Get started today!
Phone: (404) 973-2911 Email: info@fenceworkshop.com Get a quote: Online Quick Quote Form
Zip Codes
32801 | 32802 | 32803 | 32804 | 32805 | 32806 | 32807 | 32808 | 32809 | 32810 | 32811 | 32812 | 32814 | 32815 | 32816 | 32817 | 32818 | 32819 | 32820 | 32821 | 32822 | 32824 | 32825 | 32826 | 32827 | 32828 | 32829 | 32830 | 32832 | 32833 | 32834 | 32835 | 32836 | 32837 | 32839 | 32853 | 32854 | 32855 | 32856 | 32857 | 32858 | 32859 | 32860 | 32861 | 32862 | 32867 | 32868 | 32869 | 32872 | 32877 | 32878 | 32885 | 32886 | 32887 | 32891 | 32896 | 32897 |32899