Driveway Gate Repair in Atlanta, GA
---
Gate Repair in Atlanta, GA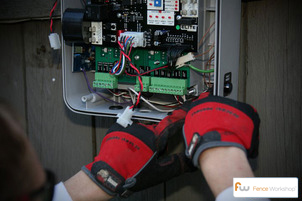 Fence Workshop™ of Atlanta, GA repairs gate operators, operator accessories and gate hardware throughout the city. A malfunctioning gate or access control system can cause inconvenient problems that need to be dealt with immediately. If your gate opener or access system is working slowly, making odd noises, or not moving at all, we are glad to help. All of our gate technicians are licensed and have years of experience servicing a wide variety of gate types. We can take care of a variety of gate issues throughout Atlanta, including rebuilding a gate motor or reprogramming an access keypad. At Fence Workshop™ of Atlanta, we carry a wide variety of parts that are often needed for replacement. Any part that is needed that we may not have on hand, we can quickly order and have delivered as soon as possible. Our goal is to be the top gate repair company throughout the entire city of Atlanta.
Pricing for our Repair Services in Atlanta, GA
Our Atlanta rates for repairs are some of the best in the city. We charge a competitive rate of $150.00 for any automatic driveway gate repair. This includes any repair our skilled gate technicians can fix while on-site within the first hour. If the repairs take longer than an hour, the cost for any additional hours will be $95.00 per hour. Along with repairing your automatic gate, our specialists will provide a complementary full system checkup. The only additional charges that may occur, will be for new parts that may be needed to fix the gate problem, in which we will have to order and make a return visit to finish the repair.
---
Get Started – Shop Our Fences Now!
We know you're getting excited about your new fencing project, and we would love to help. You're just a call or click away from getting started! Our passion is the art of beautiful fences, and we can't wait to share that passion with you to create the dazzling fencing you've been dreaming of. Get started now!
Phone: 1-888-802-5252  Email: info@fenceworkshop.com  Get a quote: Online Quick Quote Form
Zip Codes
30301 | 30302 | 30304 | 30305 | 30306 | 30308