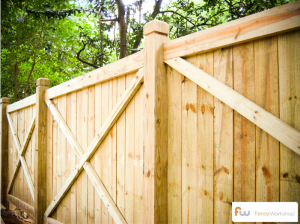 At Fence Workshop™, we don't claim to be the best fence supply company in Atlanta, but we work hard to be and strongly hope our customers think so. Atlanta is not short of fence providers but here's what we think makes us a strong candidate to be the best fence supply company in Atlanta.
We put our customers first and in doing so, we've evolved to produce nothing but the highest quality fences that leave each customer with a smile on their face. Our fence company is just that, a fence company and not a handyman, general contractor or landscaping company that claims to be a fence expert. We do nothing but build fences and service one of the highest volumes of customers in Atlanta. Our Atlanta location is locally managed by our American Fence Association Certified Fence Professional (CFP). Only 2% of fence companies have an actual CFP on staff.
We supply each and every style fence available including wood privacy, picket and board, vinyl fences, aluminum and steel metal fences and commercial and residential chain link fences. If you can dream it, we can supply it and take the extra steps to ensure it's the best fence on the block. For example, our wood fences do not come in panels like those found at Home Depot or Lowes. Our wood fence are contoured to the slope of your land making them tightly secure to the ground. This feature is perfect for containing dogs in your yard.
So if you're looking for the best fence company in Atlanta to supply wood, vinyl, chain link or metal fences in Atlanta, we encourage you to check out our website and selection of fences.
Get Started – Shop Our Fences Now!
We know you're getting excited about your new fencing project, and we would love to help. You're just a call or click away from getting started! Our passion is the art of beautiful fences, and we can't wait to share that passion with you to create the dazzling fencing you've been dreaming of. Get started now!
Phone: (404) 973-2911 Email: [email protected] Get a quote: Online Quick Quote Form