Get Ideas For Your Next Wood Fence Project
---
While Fence Workshop does not currently sell wood fencing, we still want to be a source of inspiration for your next fence project. All of these wood fences were built on-site, which is how we would recommend all wood fences be installed versus using pre-built panels found at big box retailers. We've included the materials necessary for each fence style below.
Wood fencing can be a beautiful addition to your home or business, but make sure you know the upkeep required to maintain a structurally sound and attractive wood fence. Be sure to find out the pros and cons of wood fencing before moving forward with any wood fence project!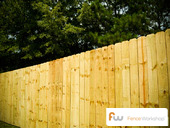 The Baxter
See How To Build It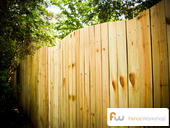 The Hill
See How To Build It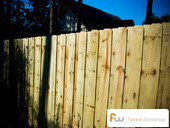 The Fortson
See How To Build It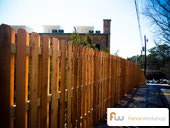 The Highland
See How To Build It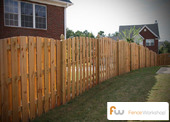 The Peabody
See How To Build It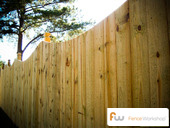 The Waddel
See How To Build It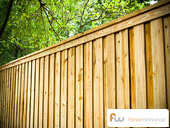 The Tillman
See How To Build It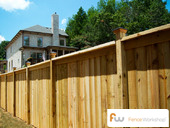 The Boulevard
See How To Build It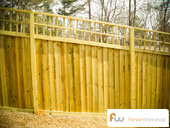 The Clayton
See How To Build It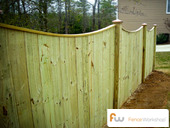 The Oglethorpe
See How To Build It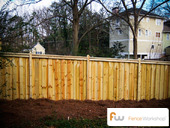 The Bloomfield
See How To Build It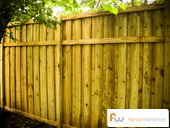 The Barber
See How To Build It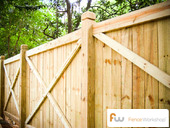 The College
See How To Build It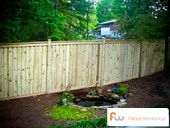 The Polaski
See How To Build It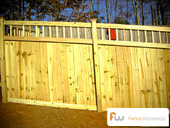 The St. George
See How To Build It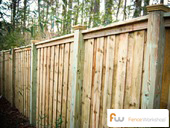 The McWorter
See How To Build It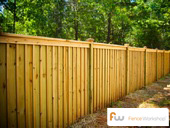 The King
See How To Build It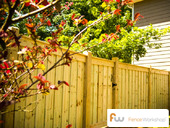 The Washington
See How To Build It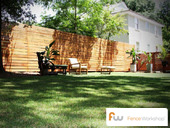 The Skyline
See How To Build It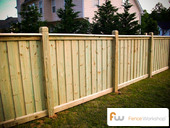 The Spartan
See How To Build It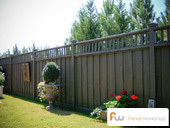 The Talmedge
See How To Build It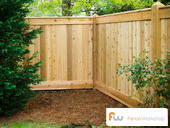 The Sanford
See How To Build It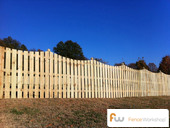 The Summerwood
See How To Build It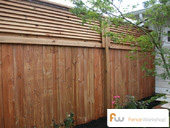 The Stanton
See How To Build It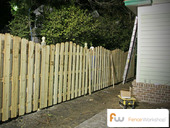 The Dougherty
See How To Build It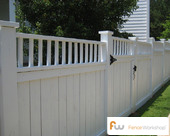 The Dawson
See How To Build It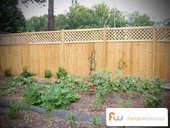 The Dublin
See How To Build It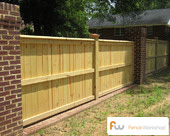 The Glenwood
See How To Build It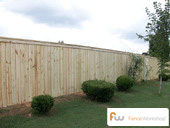 The Henderson
See How To Build It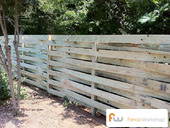 The Strickland
See How To Build It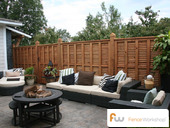 The Pearl
See How To Build It
---
Wood Privacy Fencing by the Pros:
When it comes increasing the privacy, security, and value of your home, our gorgeous wood privacy fencing will transform your property in ways you have to see to believe. Fence Workshop™ provides ideas and information for those looking to add wood privacy fencing to their property. Each wood privacy fence found on our site has been built by our fencing professionals, so we can provide all the tips you need to build it yourself. While we don't sell lumber to the public at this time, we still strive to provide as much information as possible to those looking to add fencing to their property, regardless of whether we can provide the materials or installation. At Fence Workshop™ we love unique fencing and we have the knowledge to help get you a few steps closer to making your fence project a reality.
Wood Privacy Fence Installation:
While we do not provide installation services, we think there are a few things people should know when installing a wood privacy themselves, or hiring an installation company. Make sure your fence installer is licensed and insured and knowledgable in the latest installation standards. Ask them how they secure the fence posts and at what depth, how many rails of framing they'll include, and what kind of warranty they include on their installation practice and materials. If your property has inclinations and declinations, know whether the fence will be built to follow the contour of the ground, or if it will be stepped. The latter will create gaps at the bottom of the fence but may be more aesthetically pleasing depending on the style of wood fence you've chosen. Wood gates can become a source of frustration overtime as the natural material is bound to make movements due to weather changes and general use. Know what your installer is doing to mitigate these issues. One such precaution is using Cedar framing on gates to reduce the weight. Another good standard to follow is the use of 6×6 posts on all wood gates, regardless of size, as they'll be stronger and less likely to sag. Remember, the key to avoiding surprises along the way is to do your research and ask the right questions before mistakes are made!
Wood Privacy Fence Ideas:
When looking for unique wood privacy fence ideas, we have a few suggestions to help you get started. First, start by checking out the privacy fence designs we have provided, and see if there is any specific styles or features that you like. Keep in mind that we encourage our customers to mix and match different upgrades to come up with a unique design. With over ten common upgrades, there are literally thousands of possible unique designs. Next, we suggest checking out magazines for up-to-date design ideas. Most books on fencing will only have standard and outdated fence ideas, so home and garden design magazines are your best sources. In terms of online resources, a Google, Yahoo or Bing image search is another great way to find different fence ideas.
Design Your Own Unique Privacy Style With Our Wood Privacy Fence Upgrades:
Exposed Posts/Inset Pickets
A fence with exposed posts simply has the pickets inset between the posts, rather than across the face of the posts. This allows the fence posts to be visible when facing the front of the fence.
A "fascia" is a board that is placed horizontally on the face of the fence. These are used to frame the front of the fence and add asthetic appeal.
A top board is a board that lays flat on the top of each privacy fence section. Most commonly, we use 1×4's, 2×4's, 1×6's and 2×6's for top boards.
The possibilities for a lattice-topped fence are endless. From vertical and horizontal lattice to traditional diagonal and custom designs, you can design and build any and all styles of lattice for your fencing. Just make sure your installation professional has a clear idea of what the end product should look like.
Post tops can be cut any way you desire, but here are a few common ones: light dado, dual dado, french gothic and pointed.
Post cap options are seemingly endless, from copper and aluminum to solar lighted and stained glass.
Standard wood privacy fences are generally built in either 6 or 8 foot heights, but don't be scared to ask your installation professional for different height options.
While basic privacy fence lumber is usually MCQ™ pressure treated pine, about 1/3 of wood fencing customers upgrade to western red cedar. Other less common lumber upgrades include oak, cypress and bamboo.
While all the lumber most full service fence companies use when constructing fences is either chemically treated or naturally resistant to rot and decay, we strongly suggest water sealing your fencing to extend the life and natural beauty of the wood. Sealing a fence should be done a few months after installation, when the lumber is well dried. Staining wooden fencing is another popular option that will allow your fence to be almost any color desired.
Wood Privacy Fence Lumber:
Most privacy fences are built using pressure-treated pine followed by western red cedar. Other special ordered lumber includes oak, cypress, redwood, ipe (iron wood), teak and bamboo. Many of our privacy fence idea templates incorporate both cedar and pine, due to different advantages provided by each. Most commonly this is done by using pressure-treated pine posts when building a cedar fence. The advantage of this is the affordability of pressure-treated pine posts over cedar, and because setting cedar posts in concrete can cause water to pool and rot the base of the post. Three solutions to this problem include coating the base of the post with a resin-based moisture barrier, using metal sleeves over the base of the posts, or water sealing and wrapping them with a thick tape such as Tyvek Straight Flash™ or Vycor™. This should be done up to about 1″ above the top of the concrete.
MCQ™ pine lumber boasts a more natural look than other pressure-treated lumber. The treatment process is certified as an Environmentally Preferable Product by the Scientific Certification System. The lumber comes with a lifetime residential and agricultural limited warranty against structural damage caused by termites and fungal decay. MCQ pine lumber uses a copper-based preservative with a co-biocide and is building code compliant ICC-ES Reports, ESR-1980, ESR-2240. We suggest water sealing your pine fence no sooner than 3 months after installation.
Western red cedar lumber provides natural beauty and durability that lends itself well to any backyard project. It has a natural resistance to rot and decay and usually comes with some kind of manufacturer's warranty covering these issues. Cedar lumber varies in color from a red, golden brown, light blond and dark chocolate. A major advantage of cedar over pine, is the dimensional stability, meaning it is less likely to warp or change shape. While the application of water sealant is not necessary, it will extend the life and original beauty of the wood.
Quality bamboo privacy fence is what we suggest for those who dislike the look of traditional wood fencing because it creates privacy without the look or feel of a barrier. Bamboo panels are finely crafted and built to last. Bamboo is a great option when planning and designing your privacy fence and look great in a variety of landscapes.
Wood Privacy Fence Prices:
Wood privacy fence prices will depend on how many upgrades from the basic "privacy fence" you may want to incorporate. We have listed suggested pricing based on our experience in the fencing business, but these prices should only be looked at as starting points. Your location, amount of footage and your chosen fence company's installation practices will affect the pricing of your fence.
Where do we supply fence materials?
At Fence Workshop™ we supply a variety of fence materials across the country. We do not currently carry lumber for wood privacy fences, however we do ship our other fence materials to: n Georgia, Florida and North Carolina areas like Atlanta GA, Athens GA, Augusta GA, Columbus GA, Macon GA, Savannah GA, Valdosta GA, Destin FL, Jacksonville FL, Orlando FL, Tallahassee FL, Tampa FL, Apex NC, Cary NC, Chapel Hill NC, Holly Springs NC, Raleigh NC, Wake Forest NC and many more.
---
Get Started – Shop Our Fence Options Now!
We know you're getting excited about your new fencing project, and we would love to help. You're just a click away from getting started! Our passion is the art of beautiful fences, and we can't wait to share that passion with you to create the dazzling fencing you've been dreaming of. Contact us today!
Email: [email protected]