Wood Fences Apex, North Carolina
---
Sales in Apex, NC:
Fence Workshop™ supplies beautiful wood fences across Apex, NC and surrounding areas Apex is a beautiful community and provides the perfect backdrop for a new wood fence from Fence Workshop™.  All of our wooden fences are fully customizable, which means that we design and build you an excellent and unique wood fence that is built to suit your property in Apex, North Carolina. Because we build all of our wood fences on-site, we can easily construct these fences to handle the steepest inclines and declines without leaving gaps.
Wood Fence Installation:
These fences are state-of-the-art, as the posts are set in pre-mixed concrete and quick-rok™, in belled holes. It means that the concrete is more than three times the strength of normal concrete and the hole is much wider at the base, making it twice as strong as well. Most wood fence gates (unless otherwise specified) are set on 6×6 posts that stand out more than the other post, contributing to rigidity and aesthetics. Most commonly in Apex, the lumber we use is a pine wood with a MCQ pressure treatment and cedar. The pine is lighter, more natural looking, and safer (regarding the chemicals used in the treatment). As always, these fences come with the Fence Workshop™ 5-Year Installation Warranty.
Wood Board Fences North Carolina:
Wood board fencing can be a beautiful way to set a boundary while still allowing for high visibility. From a simple two rail pine fence to a prominent five rail cross-buck constructed of cypress, we are one of Apex, NC's largest installer of board fencing and offer a 5-year installation warranty with all fences we install.. The natural landscape found throughout Apex blends perfectly with the textures and aesthetics provided by a wooden fence, no matter the style.
Construction of Wood Board Fencing:
As with all Fence Workshop™ fences, our wood board fences are fully constructed on your property in Apex, North Carolina. All pressure treated posts are set in belled holes with premixed concrete and quick-rok™ for extra stability and longevity. The fence is fully framed before the wire is stretched to the perfect tension, nailed into place and often followed up with cover boards (1×4 or 1×6 strips of lumber used to hide where the wire attaches to the fence posts and or framing). Due to its lower cost, wood and wire fences are most commonly constructed of pressure treated pine lumber in North Carolina. Other lumber choices that we offer include cedar, cypress and oak.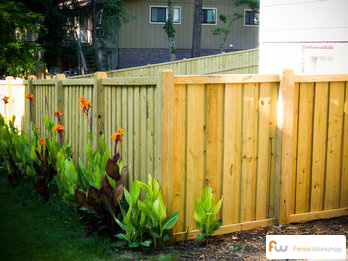 Purchasing a Wood Board Fence in Apex, NC:
When ready to purchase a wood board fence in Apex from Fence Workshop™, just give us a call toll-free or send us an email to get started. If you already know the style of fence that you want, let us know, along with the footage of the fence, an accurate description of the terrain, the amount and size of the gates that you will be needing and any other necessary specifications. Not sure what you want? Call today and schedule a no-obligation consultation with one of our highly trained and experienced project managers.
---
We Also Supply These Other Types of Fencing in Apex, North Carolina:
---
Get Started – Shop Our Fences Now!
We know you're getting excited about your new fencing project, and we would love to help. You're just a call or click away from getting started! Our passion is the art of beautiful fences, and we can't wait to share that passion with you to create the dazzling fencing you've been dreaming of. Get started now!
Phone: (919) 348-2727 Email: [email protected] Get a quote: Online Quick Quote Form