Wood Board Fencing
---
Fence Workshop™ knows beautiful wood board fences!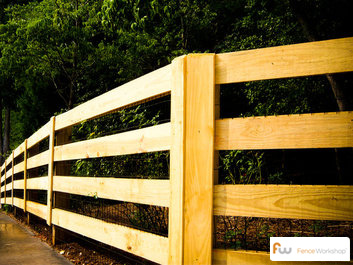 Wood board fencing is a classic fence option for those customers looking to create property lines or enclose large farm animals. They are also aesthetically pleasing on farmland properties. Perhaps best of all, they are generally going to be less expensive than almost any other type of fencing on the market. That doesn't mean you shouldn't do your research before installing. Fence Workshop is the fence expert for wood board fencing, and while we do not currently supply this type of material, we want to provide all the information you need to make sure you make the right choices with whichever type of fencing you decide to use. Read on to get helpful tips for your wood board fence installation, or what to look for in a fencing professional.
A Note for Small Animal & Pet Owners:
Wood board fences can be adapted to have galvanized or coated wire attached to them to help contain small animals. This is more commonly seen in rural or residential applications.

Building Board Fences:
All wood board fences are not created equally! We recommend setting all fence posts in a hydraulic concrete which makes the posts set much faster, more accurately and much stronger. Pay strong attention to the spacing of the posts and to the flow of the rails, keeping them as symmetrical as possible. Some installation companies will allow small dips in the grade along a fence line which will interrupt the aesthetic flow of your fence. Fence Workshop™ recommends adding longer posts to accommodate for the dip, thus allowing the rails to run smooth and straight. This adds a picturesque look to any farm, pasture or property. It's should be your installer's goal to exceed your expectations when building board fences and we suggest asking these your installer these questions before hiring them for the job. No one likes surprises once a project has already begun!
Get Started – Shop Our Fences Now!
We know you're getting excited about your new fencing project, and we would love to help. You're just a click away from getting started! Our passion is the art of beautiful fences, and we can't wait to share that passion with you to create the dazzling fencing you've been dreaming of. Contact us today!
Email: [email protected]