Wood and Wire Fencing
---
Construction of Wood and Wire Fencing: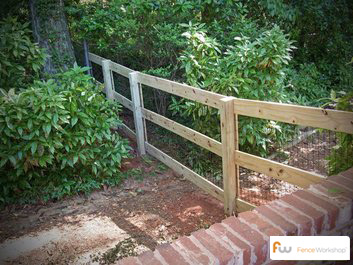 As is with all Fence Workshop™ fences, our wood and wire fences are fully constructed on site. All pressure treated posts are set in belled holes with premixed concrete and Quick-rok™ for extra stability and longevity. The fence is fully framed before the wire is stretched to the perfect tension, nailed into place and often followed up with cover boards (1×4 or 1×6 strips of lumber used to hide where the wire attaches to the fence posts and or framing).
What type of wood to use?
Due to it's lower cost, wood and wire fences are most commonly constructed of pressure treated pine lumber, here in Georgia. Other lumber choices that we offer include cedar, cypress and oak.  
What type of wire to use?
The two most common types of wire include welded wire and woven wire. Welded wire is (regularly referred to as hog wire) and is perfect for smaller pets. Choose from both regular galvanized welded steel wire and this same mesh with a black coating. Woven wire is stronger than the welded wire and the perfect choice for larger animals.
Where do we install our wood and wire fences?
At Fence Workshop™ we install wood and wire fences in Georgia, Florida and North Carolina areas like Atlanta GA, Athens GA, Augusta GA, Columbus GA, Macon GA, Alpharetta GA, Marietta GA, Conyers GA, Lawrenceville GA, Woodstock GA, Braselton GA, Orlando FL, Apex NC, Cary NC, Chapel Hill NC, Holly Springs NC, Raleigh NC, Wake Forest NC and many more. As always, we provide a 5-Year Installation Warranty with all fences we install.
---
Get Started – Schedule a Free On-Site Estimate Now!
We know you're getting excited about your new fencing project, and we would love to help. You're just a call or click away from getting started! Schedule your free consultation today. Our passion is the art of beautiful fences, and we can't wait to share that passion with you to create the dazzling fencing you've been dreaming of. Contact us today!
Phone: 1-888-802-5252  Email: [email protected]  Schedule a quote: Online Quick Quote Form