Garden Fencing: The Most Delightful of All Fencing
---

Benefits to Installing a Garden Fence with Fence Workshop™:
Fence Workshop™ knows that installing a garden fence can be a great deterrent for invading wildlife. Our staff at Fence Workshop™ thinks it can also be aesthetically pleasing. Finding the balance between the two can be a real challenge, however, so we have some tips that could be the difference between an ordinary and extraordinary result.
This Beautiful Garden Fence is a Phone Call Away From Your Backyard:
At Fence Workshop™ we specialize in creating functional and fashionable garden fence solutions. Whether your selection of fencing is simple or more advanced, garden fencing should be considered part of the total landscaping effect of your yard. Your budget, your time, and of course the effort you want to put forth will dictate your fencing project outcome. Garden Fencing, as with any fencing, can be a great DIY project for the family, which is why we provide materials for those wanting to install it themselves.
Wildlife and How to Deter it: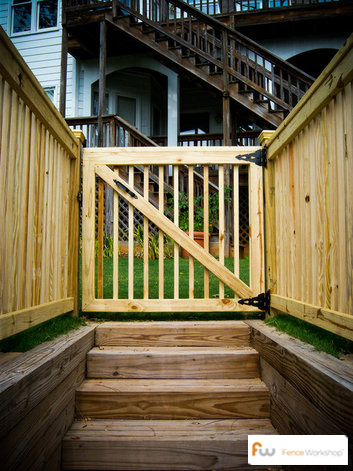 To effectively prevent wildlife from raiding your garden, a fence that surrounds the vegetable growing area is mandatory. In addition, any deterrent fence should be dug well into the ground so digging and burrowing animals can't get under the fence and gain access. Metal and vinyl are some of the best materials to use for deterrent fences because of their resistance to natural deterioration processes. Wood fences are certainly an option as well. Garden fencing should surround the area on all sides, adding more along the edges of the garden as you see fit. Force the fence poles well into the ground for stability. The height of the fence posts should be even and two feet above the tallest veggie or flower you are trying to protect. Keep your fence posts about a foot away from the edge of the garden to prevent wildlife from simply leaning over the fence to eat as they wish. Try digging a trench of six inches from pole to pole and place netting into the ground, covering it with dirt. This will further help to prevent burrowing animals. Adding a gate adds accessibility to your garden and keeps animals out.
Some Ideas to Add Spice to Your Design
A border of tall growing flowers or oriental grasses can create a beautiful and natural looking effect for your fence, or even a hedge of evergreen or holly. Don't be afraid to combine a few fence materials to create a uniquely secluded area for your gardening area. A wood gate surrounded by a mix of great flowers and shrubs as well as trimmed grasses will create an inviting entrance to your garden. Decorative fences can also be created from your favorite outdoor objects. If wind chimes are a favorite, accent each corner of the garden with a chime on a fence post. Use ornamental garden objects such as statues or benches strategically placed with tall plants as a border. Plant herbs in antique pots and tea-kettles and arrange them as a fence. Or, for the true artists, use sculptures, bought or made, to create a one-of-kind, unique fence environment to contain your beautiful garden.
Ready to Get Started?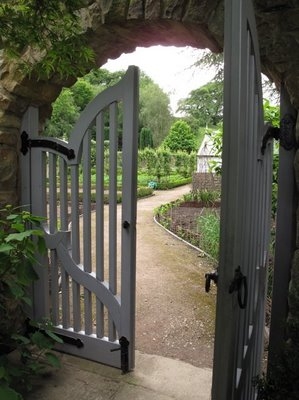 Before starting a garden fence, check your town's building and zoning codes. Many codes exist, and might be enforced, regarding a fence's height, the distance from a property line as well as materials that can or cannot be used.  If you have questions about any of these points, be sure to bring them up with an associate at Fence Workshop™. We can help go over these details and more. The last thing you want is for a "monetary fine" or "disassemble order" to come in the mail after your time, effort and money have been spent. Decide where you'd like the fence to be located and its shape, size and measurements – don't be afraid to think round, rectangular or any shape. Our experts at Fence Workshop™ can assist you in the planning and architecture of any fence you decide on. Remember, not all fences must surround a square or rectangular area. Next, ask yourself what needs you are trying to meet by installing a fence. If you're looking to keep the garden safe from wildlife, structural stability may be the key factor as opposed to style, but with many of our fencing options, you don't have to sacrifice one to get the other. Contact us to get started!
Where does Fence Workshop™ Supply Garden Fencing?
At Fence Workshop™ we install garden fencing in Georgia, Florida and North Carolina areas like Atlanta GA, Athens GA, Augusta GA, Columbus GA, Macon GA, Savannah GA, Valdosta GA, Destin FL, Jacksonville FL, Orlando FL, Tallahassee FL, Tampa FL, Apex NC, Cary NC, Chapel Hill NC, Holly Springs NC, Raleigh NC, Wake Forest NC and many more.
---
Get Started – Shop Our Fences Now!
We know you're getting excited about your new fencing project, and we would love to help. You're just a call or click away from getting started! Our passion is the art of beautiful fences, and we can't wait to share that passion with you to create the dazzling fencing you've been dreaming of. Get started now!
Phone: (404) 973-2911  Email: [email protected]  Get a quote: Online Quick Quote Form