Arbors
---
What is an Arbor?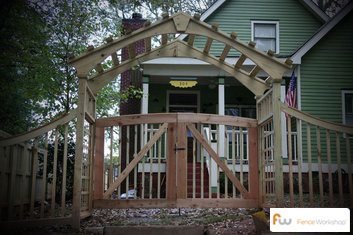 Fence Workshop™ has the information you need to get your new arbor off the ground. An arbor is an outdoor structure that is generally covered in some sort of vines or greenery that can be used for many different purposes. Some arbors provide a nice entryway to a particular area of your yard, like a garden. Others will offer enough space – and shade – to place a bench and create a quiet resting place.
Arbor Construction and Installation:
Arbors can be made from many different materials, including wood, vinyl or metals in a variety of styles and finishes. While some homeowners like to try their hand at building their own arbor, you can rest assured that an arbor supplied by Fence Workshop™ will be strong, durable and beautiful. We will work with you to determine the best size, shape and style for your yard and your budget.
Where does Fence Workshop™ sell Arbors?
At Fence Workshop™ we sell arbors in Georgia, Florida and North Carolina areas like Atlanta GA, Athens GA, Augusta GA, Columbus GA, Macon GA, Savannah GA, Valdosta GA, Destin FL, Jacksonville FL, Orlando FL, Tallahassee FL, Tampa FL, Apex NC, Cary NC, Chapel Hill NC, Holly Springs NC, Raleigh NC, Wake Forest NC and many more.
---
Get Started – Shop Our Fences Now!
We know you're getting excited about your new fencing project, and we would love to help. You're just a call or click away from getting started! Our passion is the art of beautiful fences, and we can't wait to share that passion with you to create the dazzling fencing you've been dreaming of. Get started now!
Phone: (404) 973-2911 Email: [email protected] Get a quote: Online Quick Quote Form