Aluminum Pool Fencing
---
Aluminum Pool Fencing Professionals:
We're here to assure that when you choose Fence Workshop™ for your next aluminum pool fence, you're choosing quality. Purchasing an aluminum pool fence has never been easier for our customers in Georgia, Florida and North Carolina with our all inclusive fence packages that include everything you need to get your pool up to code and safe for the whole family. Our expert staff has been supplying aluminum pool fences in the Southeast for almost a decade.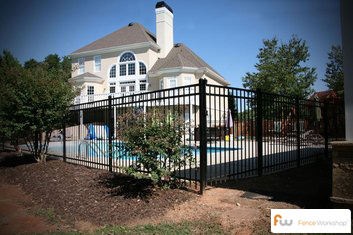 Our aluminum pool fences are built to last:
Our aluminum pool fences are strong, beautiful, will never rust, never need to be painted and they come with a Limited Lifetime Manufacturer's Warranty. Because our aluminum pool fences are customizable with rings, finials, and more, it's easy to find or design a style of fence that you are sure to love. Don't have a swimming pool but considering getting one in the future? If building a fence, consider going ahead and installing a style of fence that will meet national and local pool codes. An additional benefit of our aluminum fencing over the competition's is the thickness of our post walls. Our post walls are almost twice as thick and have an internal support in them as well, thus allowing the product to be ADA compliant.
Aluminum Pool Fencing:
The major difference in regular aluminum fencing and our aluminum pool fencing, is the air spacing between the pickets. Our Ameristar™ ForeRunner® pool fences have BOCA specific air space, whereas commonly used regular aluminum fencing has more. These fences are manufactured in the US, come with a lifetime manufacturer's warranty and are specially designed for pools and to meet national and local pool codes. Our aluminum pool fence panels come in a variety of styles and meet U.S. BOCA national pool codes.
Options:
Our aluminum pool fencing is available in a variety of colors and style options. By working with any of our professional sales associates, they will help to inform you of all pool code requirements, such as National BOCA pool codes. Not only do we offer the wide range of products featured by Ameristar, we have also recently teamed up with other top of the line aluminum fence manufacturers to provide a widest array of options possible for our customers. We buy direct from the these top aluminum manufactures in the U.S. for a reason, it gives our customers almost any design option – from colors, picket styles, ornate additions screwless options, rackable panels and the most up to date to new fence designs. It's safe to say Fence Workshop™ has Georgia, Florida and North Carolina covered with options for Aluminum Fences.
Where does Fence Workshop™ Supply aluminum pool fencing?
At Fence Workshop™ we supply aluminum pool fences in Georgia, Florida and North Carolina areas like Atlanta GA, Athens GA, Augusta GA, Columbus GA, Macon GA, Savannah GA, Valdosta GA, Destin FL, Jacksonville FL, Orlando FL, Tallahassee FL, Tampa FL, Apex NC, Cary NC, Chapel Hill NC, Holly Springs NC, Raleigh NC, Wake Forest NC and many more.
---
Get Started – Shop Our Fences Now!
We know you're getting excited about your new fencing project, and we would love to help. You're just a call or click away from getting started! Our passion is the art of beautiful fences, and we can't wait to share that passion with you to create the dazzling fencing you've been dreaming of. Get started now!
Phone: (404) 973-2911 Email: [email protected] Get a quote: Online Quick Quote Form