Wood Picket Fences Columbus, GA
---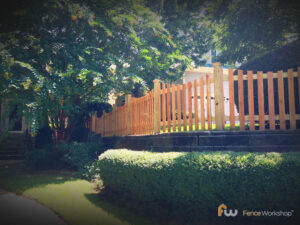 With the variety of houses in the Columbus area, Fence Workshop can provide many different fence types to accent the character of your house. We specialize in wood picket fences and wood privacy fences in both pressure-treated pine lumber and cedar. We also have experience providing fences out of other species of wood, and we are pioneers in new wood fence types and designs. Fence Workshop is a leading fence installer in the greater Columbus area because of our attention to detail and our forward-thinking designs that we provide at affordable prices.
Columbus wood picket fences are one of our specialties at Fence Workshop. No matter what style wood picket fence you're looking for in Columbus, GA, we can work with you to find the perfect design and then professionally build it. It's our passion to work closely with our customers to select the best picket fence option for their desired function and aesthetic, and then help get it built to perfection.
Columbus Wood Picket Fence Style Options
Scalloped, arched, or capped are just a few of the wood picket fence styles we build in Columbus, GA. If you can't find the right picket fence style on our website, you can send us a picture or describe the style and it would be our pleasure to design it for you.
Columbus Wood Picket Fence Lumber Options
At Fence Workshop™ Columbus, wood picket fences can be built out of a variety of different lumbers. Most commonly we build our wood privacy fences out of pressure treated pine and/or cedar lumber. Upon request, we've also built wood picket fences out of bamboo, oak and other hardwoods.
Columbus Wood Picket Fence Cost Per Foot
The lumber is the number one factor that effects our wood picket fencing cost per foot. Pressure treated pine followed by cedar have the lowest cost per foot. Each picket fence can have a large variety of upgrades. Each upgrade has a set cost and the total per foot fence cost is based on this. Compared to the average price of wood picket fencing in Columbus, Fence Workshop™ is recognized for having at or below average pricing but much higher than average quality. At Fence Workshop™ Columbus, we're one of the only fence companies you'll find that provides straight forward wood picket fence pricing on our website. Just visit our main wood picket fence page to view all of our different wood fence prices. So if you're looking for wood picket fence builders, installers, contractors or companies in or around Columbus, GA, we want to be your Columbus Fence Company!
---
Get Started – Shop Our Fences Now!
We know you're getting excited about your new fencing project, and we would love to help. You're just a call or click away from getting started! Our passion is the art of beautiful fences, and we can't wait to share that passion with you to create the dazzling fencing you've been dreaming of. Get started now!
Phone: 1-888-802-5252  Email: info@fenceworkshop.com  Schedule a quote: Online Quick Quote Form