Steel Fences Kissimmee, FL
---
Contractors, Companies, & Supply: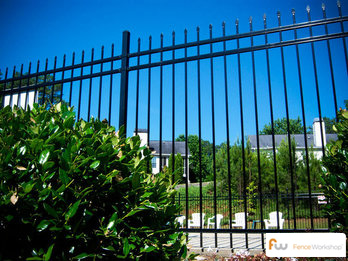 Fence Workshop™ of Kissimmee is recognized as a top supplier of steel fences throughout Kissimmee, Florida and surrounding areas. Our goal is to be the most respected and trusted fence supply company in the area, which we maintain by giving our customers top service and quality. Our options in steel fencing are virtually endless and our passion for fences is apparent in every fence we sell. Our steel fences are much stronger than aluminum fencing but not recommended to be used in coastal areas (25 miles from the ocean).
Steel Fence Professionals – Kissimmee, FL:
Kissimmee has many different fencing needs, from security to privacy. A steel fence is a great way to protect your home or property whether you live or work in the lively downtown area or retreat to one of the many beautiful neighborhoods surrounding Kissimmee. We aim to maintain the unique personality and charm of the area with every steel fence we install.
Why choose Fence Workshop™ for steel fencing in Kissimmee, Florida?
We supply all styles of steel fences in Kissimmee.
We supply steel fence additions like scrolls, rings, ball caps and gates.
Because of advanced powder coating technologies, our steel fences can last just as long as aluminum without rusting.
Our steel fences are much stronger than comparable aluminum fences.
All steel fences are supplied by our Expert Suppliers.
All steel products are above and beyond manufacturer standards.
All of our steel fences come with a 20-year manufacturer's warranty.
We're a leading Kissimmee fence company that supplies steel fences in Kissimmee, FL and surrounding areas like Tampa, Jacksonville, Destin, Daytona Beach and more.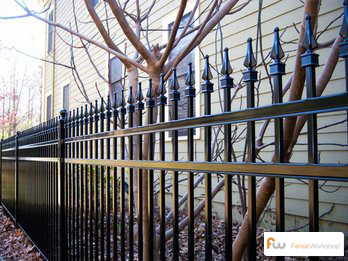 ---
We Also Supply These Other Types of Fencing in Kissimmee, FL:
---
Get Started – Shop Our Fences Now!
We know you're getting excited about your new fencing project, and we would love to help. You're just a call or click away from getting started! Our passion is the art of beautiful fences, and we can't wait to share that passion with you to create the dazzling fencing you've been dreaming of. Get started now!
Phone: 1-888-802-5252  Email: info@fenceworkshop.com  Schedule a quote: Online Quick Quote Form