Lee County, NC Fence Building Codes & Permits
---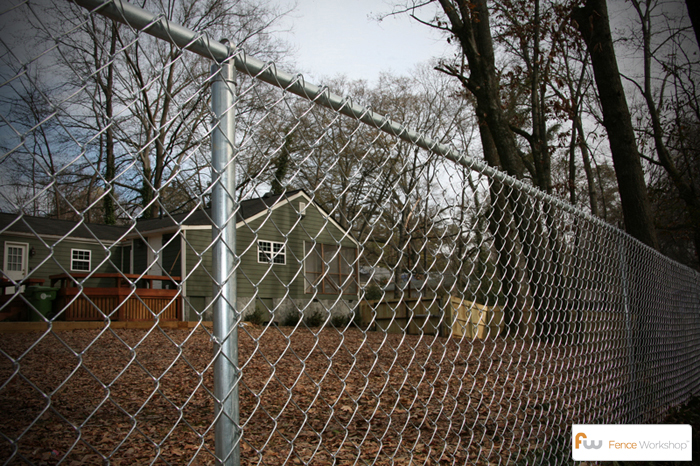 Lee County does not always require a building permit when erecting a fence. A permit is always required if the site is located within "Conservation, Historic, Landmark, SPI districts or other districts requiring a Special Administrative Permit.
Fences and walls which conform to the provisions stated herein shall be permitted by the Department of Environment and Community Development. Fences erected for agricultural purposes in the AG-1 District shall be exempt from permit requirements.
Easements: No structure with the exception of fences may be located in, or otherwise obstruct any easement. Fences shall be permitted within easements subject to the receipt of written permission from the easement holder. Approval of the Zoning Administrator and applicable County Department shall be required for all fences proposed for placement in easements which are held by Lee County.
Lee County Fence and Wall Standards
Walls or fences shall be permitted in any zoning district and are not subject to setback requirements of this resolution, except that in a residential zoning district:
(1) From and after the designation of a landmark or a historic district, no exterior portion of any building or other structure (including masonry walls, fences, light fixtures, steps, and pavement, or other appurtenant features) no above-ground utility structure nor any type of outdoor advertising sign or business identification sign shall be erected, altered, restored, moved, or demolished on such landmark or within the historic district until after an application for a certificate of appropriateness as to exterior features has been submitted to and approved by the historic preservation commission. The County of Lee shall require such a certificate to be issued by the historic preservation commission prior to the issuance of a compliance permit or building permit granted for the purposes of constructing, altering, moving, or demolishing structures, which certificate may be issued subject to reasonable conditions necessary to carry out the purpose of this part. A certificate of appropriateness shall be required whether or not a building permit or compliance permit is required. Any building permit or such other permit not issued in conformity with this section shall be invalid.
(2) The County of Lee and all public utility companies shall be required to notify the historic preservation administrator prior to initiating any changes in the character of street paving, sidewalks, trees, utility installations, lighting, walls, fences, structures and buildings on property, easements, or streets owned or franchised by the County of Lee or public utility companies. Such entity shall replace any changes described above with similar types of materials.
(3) Exterior form and appearance. The following criteria shall be considered, when relevant, by the historic preservation commission in reviewing applications for a certificate of appropriateness. All applications for certificates of appropriateness shall be subject to review based upon the design guidelines then in effect for the particular historic district. These guidelines shall be established in a document prepared and adopted by the historic preservation commission, and shall be adopted and incorporated by reference in the ordinance designating the historic overlay district or any amendment thereto. When adopted, the guidelines shall become incorporated by reference as a part of this ordinance as if set forth in their entirety herein. The guidelines may address the following: Structural condition and soundness; walls—physical ingredients, such as brick, stone or wood walls, wrought iron fences, evergreen landscape masses, building facades, or combination of these.
(4) The purpose of this section is to set forth regulations for fences throughout the overlay district.
(5) Fence. A structure serving as an enclosure, a barrier, or a boundary, usually made of posts or stakes joined together by boards, wire, or rails. Open-style fence. A fence of open construction is one in which the ratio of the open portion to the closed portion is at least one to one per foot. Typical examples of open fencing include chain link, split-rail, or picket fences (with appropriately spaced pickets). Additionally, ornate or decorative iron/metal fences that conform to the ratio as defined above shall be considered as open-style fences. Closed-style fence. A fence of closed construction is one in which the ratio of the closed portion to the open portion is more than one to one per foot. Typical examples of closed fencing include stockade fences. Sight triangle. An area that prohibits the placement of objects, such as fences, which could obstruct the ability of motorists to view opposing traffic movements at intersections. Sight triangles are determined by measuring along the edge of each intersecting street or driveway a predetermined distance and then connecting those points with a line. The area within these lines is considered the sight triangle. For public streets, the predetermined measuring distance is 60 feet. For private driveways, the predetermined measurement distance is ten feet.
(6) Adjoining parcels. Fences maybe erected right up to the property line, no setback required. An exception to this is when the fence placement would create unsafe site distance(s) at driveways or street intersections. In these cases, the enforcement officer may require the fence to be set back a minimum distance from the driveway or street right-of-way.
(7) Adjoining streets or driveways. Fences maybe erected right up to a street right-of-way line or edge of a driveway, except that no fence shall be erected within a sight triangle of a street or driveway unless such fence is 30 inches or less in height.
(8) Fences shall consist of materials commonly used in conventional fence construction, such as wood, metal, or vinyl. Fences located in the front and street side yard area must be of open-style construction (includes decorative fences as defined in section 4.15.2.1.1) with a maximum of height of four feet. Fences located in the rear yard or interior side yard areas may be of open-style or closed-style construction with a maximum height of six feet.
(9) The following fences are prohibited on lots developed for residential use: Barbed wire fences, Electric wire fences, unless used for containment of domestic pets and/or livestock as permitted under this ordinance, Chain link fences that include fabric or other material woven into the fence that creates an opaque or semi-opaque fence
(11) If, because of design or construction, one side of the fence has a more finished appearance than the other, the side of the fence with the more finished appearance shall face the exterior of the lot.
(12) Areas used for grazing, exercising or training of said animals shall be securely fenced to prevent the animals from straying, or a suitable restraint shall be provided to prevent straying.
(13) Any kennel which is not wholly enclosed within a building shall be enclosed by a security fence at least six feet in height.
(14) The application for a major site plan shall include the following information: If applicable, the proposed treatment of the perimeter of the development, including materials and techniques used, such as landscaped buffers, fences, berms or walls.
Fences & Walls Cont.
(Revised September 2009) The Zoning Resolution (Section 700) and the Property Maintenance Ordinance (Section 14-301) contain requirements about the location, height, material, and maintenance of fences and walls on residential lots. In addition, the Development Regulations (Subsection 7.4.6) contain restrictions about the construction of fences and walls in a drainage easement. All of these requirements are applicable in the unincorporated areas of the county.
Fences proposed to be located in the rear yard must not exceed the maximum allowable height of 8 feet. Fences proposed to be located in the front yard must not exceed a maximum height of 4 feet. Materials used for fences in the front yard must be ornamental in design and constructed with materials such as brick, masonry, picket or split rail. Chain link or other woven wire fences are prohibited in a front yard. Corner lots have two (2) front yards and the same regulations and restrictions on fences in the front yard apply to the yard areas adjacent to both streets. Fences and walls are not allowed to be located in the street right-of-way. Although only a professional survey can determine the actual right-of-way boundary line, in most cases it is the area approximately 11 feet from the back of the curb toward the lot.
Fences and walls constructed after 27 April 1999 are not allowed in a drainage easement unless written permission from the county is given. For further information about fences and walls in drainage easements, please contact the Stormwater Plan Review Section of the Department of Planning & Development at 919.775.8249 between the hours of 8 am and 5 pm, Monday through Friday, except holidays. Drainage easements are indicated on Final Plats of subdivisions that are kept on file in the Real Estate Records Office of the Clerk of Superior Court.
Fences may be placed adjacent to or on side or rear property lines. However, it is recommended that adequate room be provided between the fence and the property line for maintenance purposes without having to access someone else's property without their permission. Barbed wire and electric fences are prohibited on residential lots less than 3 acres in size. All damaged or missing portions of a fence need to be replaced with comparable materials and shall be attached to the existing portion of the fence. Fences cannot be externally braced by a means of support other than the intended posts or other structural members. Building permits are required for fences greater than 8 feet in height (and provided a height variance is granted by the Zoning Board of Appeals at a public hearing) and for walls that are greater than 4 feet in height.
Violations of fence and wall regulations may be reported by calling the Police Services Quality of Life Unit Complaint Hot Line at 919.718.4656

Frequently Asked Questions
Q. Where can I install a fence on my residential property? How tall can I build the fence? Is a permit required?
A. Each lot has a front, side and rear setback from the property line. Review the final plat of the subdivision to find the locations of these setbacks on the property. Although fences in the rear and side yards may be built up to the property line, it is highly recommended to offset the fence internally from the property line to allow room for maintenance to avoid crossing over to the adjacent property. Fences are allowed to be up to eight (8) feet in height in the side and rear setbacks. Each corner lot has two front yard setbacks, one from each right of way. Fences in the front yard setback are not allowed to exceed four (4) feet in height. A building permit is not required to install a fence 8 feet or less in height except a building permit is required for masonry and concrete walls which exceed 4 feet in height and function as a fence, screen, or barrier.
Q. Am I allowed to install a fence within a drainage easement on my property?
A. Possibly, although obstructions of any type including permanent structures are generally not permitted within drainage easements. Installation of fencing within a drainage easement requires approval by the Stormwater Plan Review Section.
Q. Is the homeowner required to be present at his/her residence during a scheduled inspection by a building inspector?
A. Either the homeowner or an adult representative must be present before an inspector can enter an occupied residence or fenced property. For inspection of an outside structure such as a deck, pool, or storage shed, the homeowner may place a note on the permit card granting the inspector permission to enter the property if he/she cannot be present during the inspection.
---
Fence Workshop™ supplies the following fence styles in Lee County, NC.
Wood Privacy, Picket , Split Rail & Board
Vinyl Privacy, Picket, Post & Rail
Ornamental Metal, Steel, Aluminum & Wrought Iron
Chain Link, Galvanized, Black Vinyl Coated, Temporary Panels
Driveway Gates, Gate Openers, Access Control Systems, Entry Gates, Entry Systems
Residential Fences, Commercial Fences, Security Fences, Dog Fences, Horse Fences
Fence Installation, Fence Repair, Fence Rental, Contractors, Companies, Installers, Builders
---
(Fence Workshop™ is not responsible for the accuracy of this information. Visit Leecountync.gov and Municode.com for the most up-to-date information on Lee County fence building codes and permit requirements.)
---
We Service the Following Cities in Lee County, NC:
---
Get Started – Shop Our Fences Now!
We know you're getting excited about your new fencing project, and we would love to help. You're just a call or click away from getting started! Our passion is the art of beautiful fences, and we can't wait to share that passion with you to create the dazzling fencing you've been dreaming of. Get started now!
Phone: (919) 348-2727  Email: info@fenceworkshop.com  Schedule a quote: Online Quick Quote Form