Fulton County, GA Fence Building Codes & Permits
---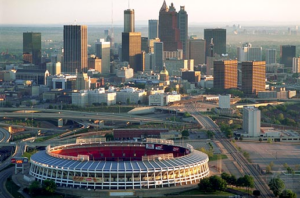 Fulton County does not always require a building permit when erecting a fence. A permit is always required if the site is located within "Conservation, Historic, Landmark (to verify call 404-330-6200), SPI districts or other districts requiring a Special Administrative Permit (to verify call 404-330-6145). Fulton County Fence Building Permit
Fences and walls which conform to the provisions stated herein shall be permitted by the Department of Environment and Community Development. Fences erected for agricultural purposes in the AG-1 District shall be exempt from permit requirements.
A. Visibility triangle. Fences, walls and vegetative materials used in association therewith must not obstruct the minimum sight distance requirements which are specified in Fulton County Subdivision Regulations administered by the Director of the Department of Environment and Community Development.
B. Gates. No part of a gate shall be located within 20 feet of a public right-of-way, nor shall any gate or vehicle in any way obstruct a public right-of-way or the minimum sight distance specified in the Subdivision Regulations regardless of whether open, closed or in an intermediate position.
C. Maintenance of required landscape areas. Landscape areas or strips required pursuant to this section shall be maintained in accordance with the requirements of the Tree Preservation Ordinance.
D. Fence and wall materials. Where the Zoning Resolution or zoning conditions require fences and walls to be solid/opaque, the visual density of the fence shall be such that it can not be seen through. The following standards shall apply to fences and walls.
1. Adjoining right-of-way. In all zoning districts except AG-1, M-1, M-1A, and M-2, wire and plastic fencing materials, including chain-link fencing with plastic or wooden inserts shall not be used adjoining a street right-of-way. The architectural treatment of poured concrete, common aggregate block or concrete block walls shall be approved by the Director of the Department of Environment and Community Development. This provision shall not preclude the use of chain link fencing as a security fence around storm water facilities.
2. Fences along all property lines. Walls and fences constructed along all property lines shall be constructed with a finished side toward the neighboring property.
3. Barbed wire. Barbed wire may be used in the AG-1 District as long as its use is associated with a legitimate agricultural pursuit. Barbed wire shall not be approved for any single family dwelling lots including such lots which are located in the AG-1 District. Barbed wire may be used for security strands in all but single family dwelling districts at a height of at least six feet above grade.
4. Minimum landscape requirements. A minimum three-foot landscape strip shall be provided between a fence or wall and a public right-of-way.
E. Height. Fences and walls shall not exceed a height of eight feet from grade in residential districts. Column and ornament heights are permitted to exceed the maximum fence/wall height up to three feet.
F. Setback. Fences and walls shall be set back a minimum of three feet from a public right-of-way.
(Fence Workshop™ is not responsible for the accuracy of this information. Visit  Fultoncountyga.gov, Atlantaga.gov and Municode.com for the most up-to-date information on Fulton County fence building codes and permit requirements.)
---
Get Started – Shop Our Fences Now!
We know you're getting excited about your new fencing project, and we would love to help. You're just a call or click away from getting started! Our passion is the art of beautiful fences, and we can't wait to share that passion with you to create the dazzling fencing you've been dreaming of. Get started now!
Phone: (404) 973-2911 Email: info@fenceworkshop.com Get a quote: Online Quick Quote Form