Pergolas
---
We Have The Information You Need To Plan Your Pergola:
Fence Workshop™ has been supplying everything you need to build amazing Pergolas and other outdoor structures for close to a decade. These Pergolas are not only beautiful, they are built to take the punishment mother nature can dish out. With so many options for staining and sealing as well as lumber upgrades and other add on's – a pergola might be the best backyard decision you ever make.
Pergola Questions & Answers:
Q: What is a pergola?
A pergola is historically known as framework with open sides and roof that supports climbing plants. More specifically, it's a form of arbor that acts as a passageway or shaded spot. A pergola is constructed of columns supporting a roof of trellis and or lattice work, on which climbing plants are trained to grow.
Q: What are pergolas made of?
When custom building a pergola, we most commonly use wood (pine, cedar and or cypress), brick and or stone. Normally we build pergolas as a commercial application for parks and high traffic outdoor locations, but also build a large volume of pergolas for our residential customers backyards, pool side & gardens in Georgia. Beyond our custom built pergolas, we supply a wide variety of standard vinyl and metal pergolas that are available for purchase.
Q: Why build a pergola?
Pergolas are almost always built as a luxury rather than a necessity (like fences often are). While historically pergolas are used as a framework to support climbing plants, today their main function is to provide an outdoor space to relax, socialize and enjoy life. Beyond this, a pergola is an excellent way to provide your property with some extra character and a focal point that will add to the value of the property.
Q: Where are pergolas usually built?
A pergola is a great addition to any backyard, park or heavily traveled outdoor location. By adding a pergola poolside, to a deck, patio or pathway, it can completely transform it into a full scale entertaining area.
Q: How to choose the perfect pergola for your property?
Choosing the perfect design/plan is not as difficult as most people expect, and can often be a very enjoyable process. If you are looking to purchase a pre-built and ready to assemble pergola for us to install or to install yourself, you will want to call or set up appointment with one of our representatives, where they will provide you with catalogs, resources and current available options. If you're wanting a custom built pergola, our project managers will work closely with you to design the perfect pergola by selecting from various ideas and options of size, style, posts/columns, crossbeams, trellis work, lumber and optional post boots, drapery and lighting.
Q: Where can I find pergola ideas?
A great place to start is by contacting and meeting with a Fence Workshop™ project manager, where he or she will provide catalogs and resources with multiple pergola design idea options. Beyond this, neighbors, magazines, books, and the internet are always helpful. If you get a pergola idea from one of these resources and present it to a project manager or send it into our office, it will be our pleasure to provide an estimate and built it to your specifications.
Q: How much does a pergolas usually cost?
The cost of our pre-built pergolas range from $800-$4,000 and come in a variety of sizes and styles. Our custom built pergolas can range from $800 to well over $10,000.
Q: Do I need some type of permit to build a pergola?
Depending on your location, you may or may not. Local codes should be checked and neighborhood residents should contact their home owners association.
Q: Does the ground need to be level where I want to put my pergola?
Yes, and no. The ground does not have to be level for a custom built pergola, but may need to be for various styles of pre-built pergolas.
Q: Can I attach a pergola to my house or an existing wood deck?
Yes, but this should only be done by professionals like Fence Workshop™ expert installers. When attaching a pergola ledger board to a house, siding must be removed, flashing must be added and building paper must be reapplied before fastening. As with your home, a pergola can be attached to a deck and should only be done by professionals.
Q: Can the posts or pillars of a pergola be anchored into concrete or does a hole need to be cored?
By using the proper hardware, most any post or pillar can be securely anchored into concrete. Coring holes and setting posts (if the pergola plan calls for post rather than pillars) is often but not always the best technique for grounding a pergola post. By working with our project managers, they will asses the individual project and provide professional expertise on whether coring holes or anchoring the posts with hardware, is the best solution.
Q: What are Fence Workshop™ qualifications for building quality pergolas?
At Fence Workshop™, we have been building pergolas for as long as we have been building fences and have always worked closely with and been staffed with landscape designers, including multiple graduates of the University of Georgia with masters degrees in landscape architecture. Outside of our architectural expertise, we pride ourselves in having project mangers that are well seasoned in advanced structural engineering techniques. A feature of our company that has always been popular with our commercial customers and occasionally appreciated by our residential, is that our builders are our employees. Our goal is to have the most professional, well trained, knowledgeable, happy and experienced staff in the fencing industry. To complement our goal, we have a full team that is solely devoted to our company's human resources and it shows through our employees and the service they provide. Our company is fully licensed in multiple states throughout the Southeast and over, and insured for our company, employee and customers'  protection. Aside from subcontracting employees, the average construction company is said to be uninsured or under insured. At Fence Workshop™, we hold multiple insurance policies including liability, commercial vehicle and workers compensation for all employees.
Customization Options Fit For A King or Queen: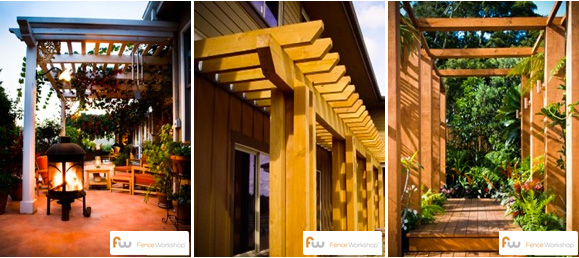 Where does Fence Workshop™ supply pergolas?
At Fence Workshop™ we sell pergolas in Georgia, Florida and North Carolina areas like Atlanta GA, Athens GA, Augusta GA, Columbus GA, Macon GA, Savannah GA, Valdosta GA, Destin FL, Jacksonville FL, Orlando FL, Tallahassee FL, Tampa FL, Apex NC, Cary NC, Chapel Hill NC, Holly Springs NC, Raleigh NC, Wake Forest NC and many more.
---
Get Started – Shop Our Fences Now!
We know you're getting excited about your new fencing project, and we would love to help. You're just a call or click away from getting started! Our passion is the art of beautiful fences, and we can't wait to share that passion with you to create the dazzling fencing you've been dreaming of. Get started now!
Phone: (404) 973-2911 Email: info@fenceworkshop.com Get a quote: Online Quick Quote Form