Paparazzi-Proof Your Home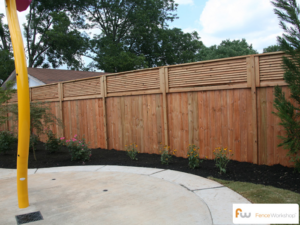 Ah, the burden of being a celebrity. It's rough feeling like you never have a moment of privacy to yourself, what with the paparazzi lurking around every corner. Your home should be a refuge, a place you go to get away from it all! Even non-celebrities reading this should be able to understand that. Fortunately, I had one of my assistants take action and call Fence Workshop™ to purchase privacy fencing for my estate. She asked me whether I wanted wood or vinyl privacy fencing. Like I have time to make those sort of decisions? I told her to text my other celebrity friends to see what they think. It turns out there's a ton more options to choose from (decisions, decisions!): For wood privacy fencing, there's 6 and 8ft Arched, Bamboo, Board and Batton, Board on Board, Horizontal Board, Scalloped, Semi-Privacy and Shadowbox, but of course those last two wouldn't keep prying eyes away sufficiently for me. They might be good choices for you, but you probably don't worry about showing up in the tabloids without makeup on!
Then there was all the vinyl privacy fencing to choose from. My assistant said that Fence Workshop™ supplies vinyl privacy fences piece by piece so they flow smoothly with my estate – no gaps for enterprising autograph hounds to try to sneak through! She also said that select models and styles come in extra tall heights. Sounds like a good plan for my privacy! And with names like Chesterfield, Galveston, Lexington, and Norfolk, I know I'm getting a fence worthy of the upper crust. So my assistant visited the Fence Workshop™ website to get a quick online quote. Of course, price was no object to me, but my assistant seemed surprised at how affordable such beautiful fencing really is. I think she was even more surprised when they mentioned the best in class manufacturer warranty on fences supplied by Fence Workshop™.
Needless to say, I'm loving my new paparazzi-proof fencing. I love it so much that I had my assistant call Fence Workshop™ again and ask about supplying an Automatic Driveway Gate to increase my privacy and security even more. I can't wait for it to arrive. Their helpful staff suggested that I should consider their Pool Fencing, which comes in Aluminum, Chain Link, Mesh, Steel, Vinyl, Wood, Wrought Iron, and other custom styles. Living in the Southeast certainly has its advantages – and Fence Workshop™ is one of them! Of course, I charge money for official endorsements, but as far as unofficial goes, I recommend Fence Workshop™ if you live in our around Atlanta, Athens, Apex, Raleigh, Orlando, Jacksonville and more.
Get Started – Shop Our Fences Now!
We know you're getting excited about your new fencing project, and we would love to help. You're just a call or click away from getting started! Our passion is the art of beautiful fences, and we can't wait to share that passion with you to create the dazzling fencing you've been dreaming of. Get started now!
Phone: (404) 973-2911 Email: info@fenceworkshop.com Get a quote: Online Quick Quote Form