(Only for Orlando) Wood Privacy Fences Must Know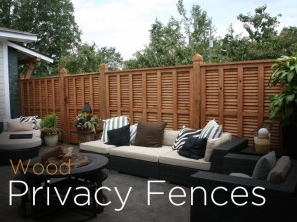 So you're looking to build a wood privacy fence around Orlando, FL? (If not, skip this post. You won't hurt our feelings… that much.) As always, one of the first things we suggest you select is the lumber you prefer to be used in building your fence. At Fence Workshop™, we supply pressure treated pine and or cedar lumber privacy fences as well as oak, bamboo, spruce, cypress and reed privacy fences for some projects.
After your determine the lumber you're wanting to use for your Orlando privacy fence, it's time to select the style or design. On Fence Workshop Orlando, we have dozens of different wood privacy fence styles and designs to choose from. You're going to want to determine the select functions you would like your wood privacy fence to accomplish and choose the fence based around that.
If you're looking for a fence in Orlando and are close to the ocean, we suggest using pressure treated pine lumber for your fence as it tends to last around 22-years as compared to 15 years for western red cedar. If the fence is in direct sunlight, we lean toward cedar as it's more dimensionally stable and less likely to warp. We install all posts with pressure treated pine despite the picket lumber.
Get Started – Shop Our Fences Now!
We know you're getting excited about your new fencing project, and we would love to help. You're just a call or click away from getting started! Our passion is the art of beautiful fences, and we can't wait to share that passion with you to create the dazzling fencing you've been dreaming of. Get started now!
Phone: (407) 490-1277 Email: orlando@fenceworkshop.com Get a quote: Online Quick Quote Form