Montage II®
---
Montage II® Industrial Fence Facts: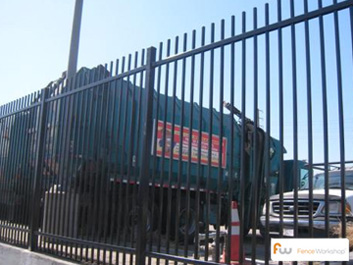 At Fence Workshop™ we specialize in industrial steel fencing. Montage II®  industrial steel fences have the strength you need in an industrial fence while enhancing the curb appeal of your property. Through state-of-the-art metal processing and powder coating technology, Montage II® fences have a surface finish that make them essentially maintenance-free. The Montage II® industrial fence and gate system also features Ameristar's pro fusion welding making it a tough fence for your property.
The Ornamental Iron Standard:
As the world's leader in ornamental fencing Ameristar Fence Products continues to deliver value added products that outperform industry standards.  Montage II is the preferred choice among owners, architects, and contractors for industrial ornamental fence.
We Supply and Deliver Montage II® by Ameristar™ all over the Southeast:
Fence Workshop™ are the professionals at supplying a Montage II fencing system on your commercial or industrial property in Georgia, Florida and North Carolina. We supply and deliver these fences on industrial properties for companies all over the Southeast and look forward to supplying yours.  This fence is secure, stylish and dependable – making it one of the most versatile options available.
About the Montage II®:
Montage II® fencing systems were designed by Ameristar™ to give industrial properties an attractive vertical picket ornamental steel fence of the highest quality. Montage II® fences are available in four colors: black, white, bronze, and desert sand. Montage II® industrial steel fences are the perfect solution for your industrial fencing needs. Fence Workshop™ the Southeast's expert Montage II® supplier, will assist you in determining what fencing system is right for you. We look forward to helping you plan the ideal fencing system for your commercial or industrial property in the Southeast.
Different Montage II® Fence Styles:

Montage II® Accessories:
    

Montage II® Gates:

Strength:
Montage II is manufactured using a proven fusion welding technology.  The welded design of Montage II bonds the industrial pickets at each rail intersection delivering unmatched strength.
Appeal:
Montage II is available in multiple styles and heights to match any project requirement.  The 1" steel picket design of Montage II delivers a versatile appeal by combining security with aesthetics.
Design:
The Montage II ATF (all terrain fence) design can traverse over a 50% grade change.  Ameristar's E-Coat coating process protects Montage II from weathering, guaranteeing long lasting beauty and structural integrity providing a 20 year warranty.
Applications:
–State Facilities
-Municipal Facilities
-Airports
-Water Treatment & Storage
-Public Housing Authorities
-Parks & Recreation
-Stadiums & Event Centers
-Schools & Universities
-Hospitals
Panels:
Montage II panels are welded using pro-fusion technology, a process proven in the automotive and aerospace industries.
Warranty:
Montage II is produced in a state-of-the-art manufacturing facility using the highest quality materials and processes.  Ameristar has over 25 years of experience and research in coating and processing of ornamental fence products allowing Montage II to support a 20 year warranty.
Coating:
Ameristar has always challenged the industry by developing and producing products with superior coatings.  Montage II was developed using E-Coat technology which deposits coatings throughout the entire product, thus eliminating any risk of corrosion where typical powders will not adhere.
Posts:
Posts are manufactured of high tensile steel and are galvanized inside and out for superior corrosion protection.  Industrial strength posts are recommended for Montage II:   2-1/2" Sq. x 12ga. & 3" Sq. x 12ga

Brackets:
Montage II brackets are designed of high strength stainless steel and accompanied with tamper-proof fasteners.  Ameristar's bracketed design allows the contractor to have a flawless installation and helps maintain the integrity of the coating by not welding the panels to the posts.
Gates:
Ameristar understands the importance of balancing perimeter security with the highest quality entry control gates.  Montage II has a wide variety of Swing, Slide, and Cantilever Gates to match any entry
Where does Fence Workshop™ Supply Montage II® Steel Fencing?
At Fence Workshop™ we supply Ameristar™ Fences in Georgia, Florida and North Carolina areas like Atlanta GA, Athens GA, Augusta GA, Columbus GA, Macon GA, Savannah GA, Valdosta GA, Destin FL, Jacksonville FL, Orlando FL, Tallahassee FL, Tampa FL, Apex NC, Cary NC, Chapel Hill NC, Holly Springs NC, Raleigh NC, Wake Forest NC and many more.
---
Get Started – Shop Our Fences Now!
We know you're getting excited about your new fencing project, and we would love to help. You're just a click away from getting started! Our passion is the art of beautiful fences, and we can't wait to share that passion with you to create the dazzling fencing you've been dreaming of. Contact us today!
Email: info@fenceworkshop.com