Combined Perimeter Security Systems
---
The System of Systems:
Even with Ameristar's plethora of fence options sometimes projects require a degree of customization, for this reason Ameristar created several Hybrid fence systems.  These systems combine security fence with mesh option to provide a level of system hardening.  This attention to detail is just one of the reasons Ameristar Fence Products is the total perimeter solution for industrial and high security projects.
Applications:
Government Facilities
State Facilities
Petroleum & Chemical Facilities
Power Plants & Substations
Stadiums & Event Centers
Schools & Universities
Military Sites
Hospitals
Hardening:
Ameristar's Hybrid systems combine security fence with mesh option to increase the delay time and/or decrease visibility.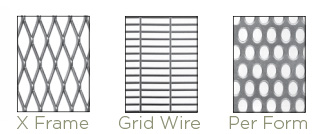 Surveillance:
Ameristar has adapted existing framework components to improve usability with multiple security devices for total systems integration.
Solution:
Ameristar has multiple industrial and high security fence solutions; each with various attributes that can increase delay and provide different levels of deterrence.  Ameristar is the preferred choice for total systems integration and perimeter hardening.
Security Platform:
Ameristar's framework provides a raceway for wiring, conduits, and/or security cabling required around the perimeter of a project.  This integrated design eliminates the need for costly trenching and boring becoming a value added solution for perimeter security upgrades.
-Communication & Video cables
-IDS / Fiber Optic Cables
-Access Control Wiring & Conduits
-Anti-ram Cabling
Anti-ram:
Ameristar has multiple anti-ram ratings engineered and tested to ASTM F2656 standards.  Ameristar offers several rating options so that each site can be designed for the appropriate stand-off distance from the asset.
-M50 (K12)
-PU60
-M40 (K8)
-PU50
-M30 (K4)
---
Get Started – Shop Our Fences Now!
We know you're getting excited about your new fencing project, and we would love to help. You're just a call or click away from getting started! Our passion is the art of beautiful fences, and we can't wait to share that passion with you to create the dazzling fencing you've been dreaming of. Get started now!
Phone: (404) 973-2911 Email: info@fenceworkshop.com Get a quote: Online Quick Quote Form