Horse Fence Design | Designing a Fence for Horses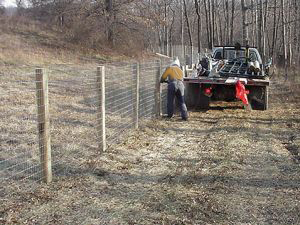 A good horse fencing project starts with a clear understanding of what you need the fence to accomplish. Locate the major working areas of your property, and think about how you move people, horses, and equipment among them. Then you can lay out the boundaries of your fence.
Fences may be used to define pastures, paddocks, runs, turn-out areas, or riding arenas. Fences should be used to separate horses in different production stages, i.e., bred mares separated from open mares, growing horses separated from mature horses. Fences can also be used to separate people areas from horse areas. A fence that encloses the perimeter of the facility, particularly the barn area, could prove to be a wise investment. Pedestrian gates can be placed where needed, and vehicle or horse gates can be conveniently located as well.
First consider the outer perimeter of the property to be enclosed. A perimeter fence enhances security for horse and property. Horses occasionally get away from handlers or riders. A perimeter fence may be the only thing between the horse and a heavy traveled road or a nearby subdivision. A gate placed at the entrance to the property could be locked for added security if the barn were unattended. The gate could also quickly be closed in the event of an emergency. Manual or automatic gate openers could be employed.
Once the outer perimeter is established, plan the interior fences for pastures, paddocks, runs, a riding arena, or any other area you want to separate. Be sure to leave ample room for vehicle traffic into and out of the area.
Once you have the plan developed, locate the fence line and corners on your property. Corner posts should be set in concrete and braced appropriately for the type of fence to be built. Wire fences that must be tensioned will require solidly braced corners. Follow the fence manufacturer's recommendations closely for corner post and brace installation. Line posts may be set in concrete or tamped earth as desired for strength. Wooden corner posts should be set in concrete. Dig a hole 3 feet deep that is wider at the bottom than the top. A layer of gravel in the bottom aids drainage. Center the post and tamp about six inches of soil around the base of the post. Next fill the hole with concrete to within 6 inches of the surface. Once the concrete has set, finish filling the hole with tamped soil.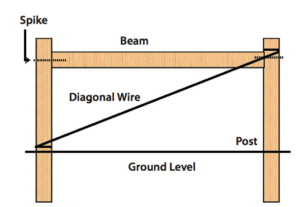 Fences such as high tensile wire and woven wire should be braced to strengthen the fence and provide proper anchoring. This figure illustrates a typical brace design using a horizontal beam and diagonal tensioning wire. Bracing is recommended at corners, in wet areas, and near gates.
Determine the size and type of gates to be in- stalled. Locate the gates carefully. Horses tend to gather around gates. If a gate is placed in a corner, horses may be trapped by more aggressive members of the herd. Bear in mind that larger gates require much more support, which may be provided by a guide wire or bracing. Stronger gates will be needed in areas of frequent use or heavy pressure from the horses.
If nonelectric metal wire, wire mesh, woven wire, or cable fencing is used, it must be properly grounded to protect the horses from lightning. If the fence is supported by metal posts, the posts are considered adequate lightning protection. If wood, plastic, or concrete posts are used, grounding electrodes must be installed. In normal dry soil, the grounding electrodes must be no more than 150 feet apart. In normally moist or damp soils, the grounding electrodes must be no more that 300 feet apart. Further, the metal fencing must be broken at maximum intervals of 1,000 feet by wooden panels, gates, or other insulating barriers.
Get Started – Shop Our Fences Now!
Fence Workshop™, is one of the largest suppliers of horse fencing in Georgia, Florida and North Carolina. If you're looking to get a new horse fence be sure to give us a call! We want to be your go-to fence company for all things related to horse fencing. Get started now!
Phone: (404) 973-2911 Email: info@fenceworkshop.com Get a quote: Online Quick Quote Form