Farm Fences Kissimmee, FL
---
Contractors, Companies, & Supply:
Looking for the right company to supply farm fencing for your property in Kissimmee, Florida? At Fence Workshop™ we have one of the highest levels of experience supplying certified fence materials for wood and wire farm fencing, post and rail farm fencing and more. Our certified professionals specialize in Kissimmee farm fences for horses, cows, goats and other farm animals. When most people think of Kissimmee they only think of the downtown attractions like Disney World and the Mall of Millennium. However, Kissimmee is full of wide open properties found throughout its neighborhoods like Winter Park, Longwood and Clermont. These places are full of large properties that need fences for their farms or land.
What Sets Our Kissimmee Farm Fences Apart:
Because of our experience, we understand just how curious animals can be around a new fence. Horses for example, will generally test a new fence by leaning and pawing against it. We understand what materials, procedures and precautions to take to ensure our farm fences stand the test of time and curiosity of large animals.
Tips for Installing Farm Fencing in Kissimmee, Florida
While we don't offer installation services directly, we can give you tips on what to look for when choosing an installer. Make sure your fence installer is licensed and insured and knowledgable in the latest installation standards. Ask them how they secure the fence posts and at what depth, how many rails of framing they'll include, and what kind of warranty they include on their installation practice and materials. If your property has inclinations and declinations, know whether the fence will be built to follow the contour of the ground, or if it will be stepped. The latter will create gaps at the bottom of the fence but may be more aesthetically pleasing depending on the style of wood fence you've chosen. Wood gates can become a source of frustration overtime as the natural material is bound to make movements due to weather changes and general use. Know what your installer is doing to mitigate these issues. One such precaution is using Cedar framing on gates to reduce the weight. Another good standard to follow is the use of 6×6 posts on all wood gates, regardless of size, as they'll be stronger and less likely to sag. Remember, the key to avoiding any surprises along the way is to do your research and ask the right questions before mistakes are made!
We supply metal fencing to Kissimmee, FL and surrounding areas like Tampa, Jacksonville, Daytona Beach, Destin and more.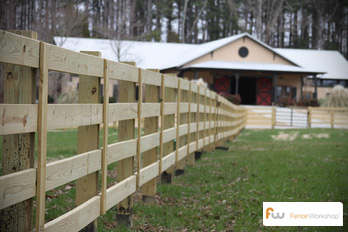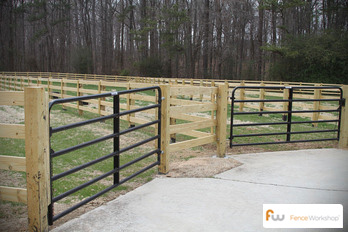 We Also Supply These Other Types of Fencing in Kissimmee, FL:
---
Get Started – Shop Our Fences Now!
We know you're getting excited about your new fencing project, and we would love to help. You're just a call or click away from getting started! Our passion is the art of beautiful fences, and we can't wait to share that passion with you to create the dazzling fencing you've been dreaming of. Get started now!
Phone: 1-888-802-5252  Email: info@fenceworkshop.com  Schedule a quote: Online Quick Quote Form