Deck Construction by Fence Workshop™
---
Professional Deck Installation:
Fence Workshop™ has the deck supply experience you need to get your new deck project underway. "If you can imagine it we can supply it."  Fence Workshop™ experienced deck specialists have been supplying Decks in Georgia, Florida and North Carolina for over 5 years. Some of our installers have over a decade of deck experience, and are excited to share that information with you.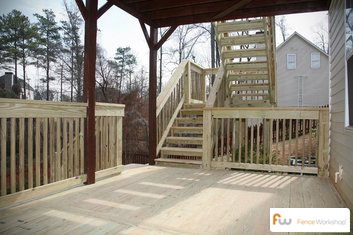 Unmatched Deck Construction Experience:
Proper planning makes a big difference when constructing a long lasting, high-quality deck. Fence Workshop™ has the deck supply experience you need to get your new deck off the ground. Vinyl, wood, and composite materials, the deck experts here at Fence Workshop™ have used all of these to construct beautiful and unique decks across the Southeast. Our experienced deck planning professionals go over all possible material options with home owners to determine the best option for your new deck.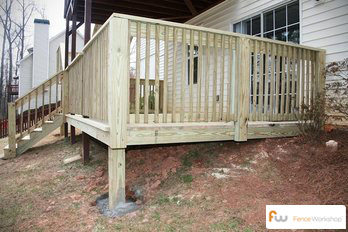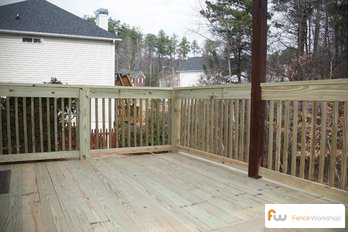 Properly Installed Decking Saves Lives:
Fence Workshop™ knows what it takes to construct a proper "load path". This is a vital part of the deck construction and planning process. You have peoples live at stake with a deck over the height of 7′, so proper planning is not just essential, its mandatory. Most decks do not require a permit. For some commercial applications, a civil engineer must sign off on the plans to insure the "load path" is safe for the weight it needs to support.
With over 150 decks built in the Southeast area over the decade, Fence Workshop™ can give confident construction, planning and installation advice to any customers looking to build a new deck or porch. We can turn deck dreams to deck reality.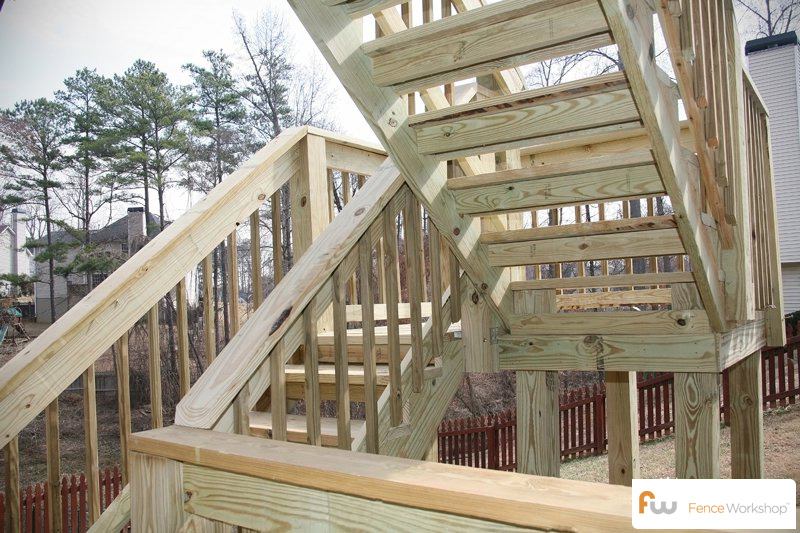 Where does Fence Workshop™ sell Decks?
At Fence Workshop™, we supply Decks in Georgia, Florida and North Carolina areas like Atlanta GA, Athens GA, Augusta GA, Columbus GA, Macon GA, Savannah GA, Valdosta GA, Destin FL, Jacksonville FL, Orlando FL, Tallahassee FL, Tampa FL, Apex NC, Cary NC, Chapel Hill NC, Holly Springs NC, Raleigh NC, Wake Forest NC and many more.
---
Get Started – Shop Our Fences Now!
We know you're getting excited about your new fencing project, and we would love to help. You're just a call or click away from getting started! Our passion is the art of beautiful fences, and we can't wait to share that passion with you to create the dazzling fencing you've been dreaming of. Get started now!
Phone: (404) 973-2911 Email: info@fenceworkshop.com Get a quote: Online Quick Quote Form