Chain Link Gates Raleigh, NC
Chain Link Gates Raleigh, NC
---
Chain Link Gates in Raleigh, NC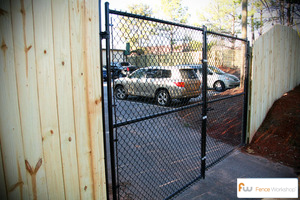 Wherever you are in Raleigh, NC a chain link gate is a great way to secure your home, business or industrial property. Chain link gates provide an advantage over wood, aluminum and other types of materials thanks to its low cost. We can easily add privacy slats to add some visual privacy to your property, or provide automation materials for your new chain link gate to add convenience. We provide a wide variety of gate styles throughout Raleigh including double swing chain link driveway gates, slide gates, cantilever gates and many more.
Advantages of Installation in Raleigh, NC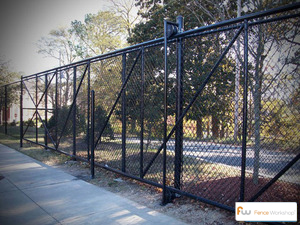 A new chain link driveway gate in Raleigh can boost your privacy and safety as well. Installing a gate can give commercial clients and their employees peace of mind, while helping with insurance costs. At Fence Workshop™ we use nothing but the highest quality of chain link material, and will never install using low quality fencing. Each product we supply is domestically made and follow all of the strictest ASTM requirements in coating and weaving procedures. Our promise is to build you a gate that lasts a lifetime, so it's important to find a qualified professional to install your new chain link gate to ensure you get the most of it.
Accessories and Add-ons
There are a wide range of accessories that can be provided for your commercial chain link fence or gate, all of which are domestic and LEED certified. We sell only the most up-to-date accessories for our gates to give our commercial and industrial customers the most convenience and security as possible. These accessories include, card readers, security fence attachments, as well as other add-ons that can be installed upon request. We'd gladly get started going over the numerous options available to you.
---
Get Started – Shop Our Fences Now!
We know you're getting excited about your new fencing project, and we would love to help. You're just a call or click away from getting started! Our passion is the art of beautiful fences, and we can't wait to share that passion with you to create the dazzling fencing you've been dreaming of. Get started now!
Phone: (919) 348-2727  Email: raleigh@fenceworkshop.com  Get a quote: Online Quick Quote Form
Zip Codes
27601 | 27605 | 27608 | 27609 | 27612