Bamboo Fence Supply Raleigh, NC
---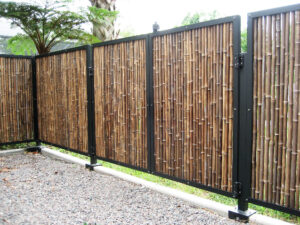 Bamboo is a great fence material because of it's incredible strength, regenerative properties and beautiful look. No other fence material is as eco-friendly as bamboo and it's one of the strongest materials on earth. At Fence Workshop™, we supply bamboo fences and gates in and around Raleigh, NC. If you're planning to purchase a new fence in areas surrounding Raleigh, Apex or Durham North Carolina, consider the following reasons to choose a bamboo fence.
Bamboo Fencing is Eco-Friendly
Because bamboo is the fastest growing plant on earth, it makes for the most eco-friendly fencing material available. A typical lumber would take 30-50 years to regenerate compared to 3 years for bamboo. Some species have even been known to grow up to 4 ft in 24 hours!
Bamboo Fencing is Strong
Bamboo is so strong that it is used to build whole buildings, some of which are hundreds of years old and still standing! It's strong enough to withstand 9.0 magnitude earthquakes when other trees would completely be destroyed.
Bamboo Fencing Looks Great
Bamboo fencing is easily one of the most attractive fencing materials out there. Available in a variety of different colors, our bamboo fences can match almost any landscape in and around Raleigh.
---
We know you're getting excited about your new fencing project, and we would love to help. You're just a call or click away from getting started! Browse our online fence store, or give us a call today to discuss your fence project. We make purchasing fence materials easy – and we'll deliver right to your doorstep!
Phone: 404-973-2911 Email: info@ Get a quote: Online Quick Quote Form