Aegis Plus®
---
Fence Workshop™ uses Aegis Plus®:
Fence Workshop™ are your Aegis Plus® steel fence supply professionals. Offered with 3 Rails at the least and more depending on height – Aegis Plus® fences are fully constructed on-site, our Aegis Plus® fences have the strength of most industrial steel fences combined with an E-coat maintenance-free surface finish that warantees the product for 20 years! Aegis Plus® fencing systems are a perfect choice for many residential and commercial applications. Fence Workshop™, the Southeast's preferred AegisPlus® supplier, we will work with you to determine what fencing system is right for you.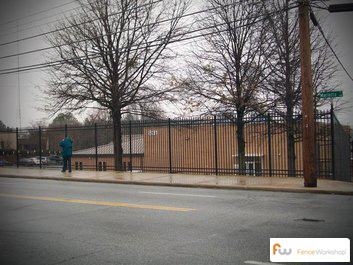 Colors and Options:
Aegis Plus® fences are available in four colors: black, white, bronze, and desert sand. Aegis Plus™ fences are built to conform to most heavy commercial building load ratings and picket spacing requirements. Also,  Aegis Plus® conforms to ADA requirements for wheel chair ramps and rails. All Aegis Plus® panels are groegous and secure making these fencing systems perfect for any home or business application.
Different Aegis Plus® Fence Styles:
  Aegis Plus® Accessories:
Aegis Plus® Gates:
Fence Workshop™ proudly uses Aegis Plus®:
When it comes to the supply of Ameristar™ Aegis Plus® commercial fencing in the Southeast, more & more companies are choosing Fence Workshop™. An Aegis Plus® fencing system is an ideal choice for your business. Whether you are interested in security or improving your business curb appeal, the Aegis Plus® fencing system offers a variety of styles and colors to fit any business application. Another benefit of Aegis Plus® over the standard Aegis® product – The Aegis Plus® fence can be built up to 8′ tall.
Aegis Plus™ with Invincible™ – the Most Secure of Upgrades Available:
Aegis Plus® fencing can even be upgraded with Invincible Security Fencing™ features, adding secure style to your fencing system. The Aegis Plus® fencing system, known for its superior quality and value makes it the 1st choice for most commercial applications. The Aegis Plus® fencing system has an internal retaining rod with maintenance free E-Coat and a manufacturer's 20 year warranty!
Additional Aegis Plus Information:
For more information on the Aegis Plus fence by Ameristar, visit the Ameristar Fence website. Also, be sure to check out these helpful PDF's that give a more detailed look at Aegis Plus fence design:
Where does Fence Workshop™ install Aegis Plus® Steel Fencing?
At Fence Workshop™ we install Ameristar™ Fences in Georgia, Florida and North Carolina areas like Atlanta GA, Athens GA, Augusta GA, Columbus GA, Macon GA, Savannah GA, Valdosta GA, Destin FL, Jacksonville FL, Orlando FL, Tallahassee FL, Tampa FL, Apex NC, Cary NC, Chapel Hill NC, Holly Springs NC, Raleigh NC, Wake Forest NC and many more.
---
Get Started – Shop Our Fences Now!
We know you're getting excited about your new fencing project, and we would love to help. You're just a call or click away from getting started! Our passion is the art of beautiful fences, and we can't wait to share that passion with you to create the dazzling fencing you've been dreaming of. Get started now!
Phone: (404) 973-2911  Email: info@fenceworkshop.com  Get a quote: Online Quick Quote Form