Aegis II® Fencing Systems
---
We Supply Aegis II® by Ameristar™ all over the Southeast: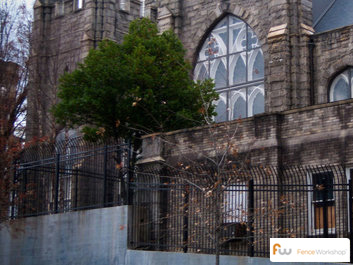 Here at Fence Workshop™, we are the fence supply professionals for Aegis II® steel fencing systems on your commercial or industrial property in Georgia, Florida and North Carolina. We supply and deliver these fences for businesses and companies all over the Southeast and look forward to becoming your trusted fence supplier as well.  This fence is secure, stylish and affordable – making it one of the most versatile options available. For over 18 years Aegis II® has been the benchmark for industrial ornamental fences.  The combination of ForeRunner rail strength and maintenance-free PermaCoat finish make Aegis II the specified choice for industrial ornamental fencing.
Aegis II® Fence Facts:
Aegis II® is constructed using a ForeRunner rail design.  The ForeRunner rail is unmatched in strength due to its dual-wall profile. Aegis II® fences have the strength you need in an industrial steel fence while enhancing the curb appeal of your property. Through state-of-the-art metal processing and powder coating technology, Aegis II® fences have a surface finish that make them essentially maintenance-free. The "no-mar" polyester powder top coat dramatically increases weathering resistance (color and gloss retention) and reduces scratched and burnishing marks normally encountered during shipping. Aegis II is produced using up to 96% post-industrial recycled steel.
About the Aegis II®:
Aegis II® fencing systems were designed by Ameristar™ to give architects and developers an attractive vertical picket ornamental steel fence of the highest quality at an affordable price. Aegis II® fences are available in four colors: black, white, bronze, and desert sand. Aegis II® industrial steel fences are the perfect solution for your industrial fencing needs. Fence Workshop™, the Southeast's expert Aegis II® supplier, will assist you in determining what fencing system is right for you. Because of the unique strength of the ForeRunner rail Aegis II® is flexible in design.  Aegis II® is available in a myriad of different heights and configurations for any application. We look forward to helping you plan the ideal fencing system for your property in the Southeast.
Different Aegis II® Fence Styles:
  
Aegis II® Accessories:
Aegis II® Gates:
Coating & Warranty:
Aegis II® is protected with Ameristar's unique PermaCoat Multi-layer coating process.  The combination of these layers delivers a system that increases weathering resistance and product durability. Aegis II® is manufactured using the highest quality materials and backed with Ameristar's 10 year warranty.
Panels:
Aegis II® is constructed using a component design.  This one-of-a-kind design allows the fence system to be shipped around the world with no risk of damage.
Posts:
Aegis II® Posts are manufactured of high tensile steel and are galvanized inside and out for superior corrosion protection.  Industrial strength posts are recommended for Aegis II®. 2-1/2" Sq. x 12ga. & 3" Sq. x 12ga.
Brackets:
Aegis II® brackets are designed of high strength stainless steel and accompanied with tamper-proof fasteners.  Ameristar's bracketed design allows the contractor to have a flawless installation and helps maintain the integrity of the coating by not welding the panels to the post.
Practical Applications for the Aegis II®:
-Stadiums & Event Centers
-Schools & Universities
-Public Housing Authorities
-Hospitals
-Parks & Recreation
-Water Treatment & Storage
-State Facilities
-Manufacturing Plants
Custom:
Although Aegis II® has many standard heights, styles, and colors, this product line has the flexibility to be manufactured in custom heights, styles, and colors. Aegis II also has multiple picket finial options to add a more ornate appeal to the perimeter, and a variety of panel adornments are available to compliment the project.
Where does Fence Workshop™ Supply Aegis II® Steel Fencing?
At Fence Workshop™ we supply and deliver Ameristar™ Fences in Georgia, Florida and North Carolina areas like Atlanta GA, Athens GA, Augusta GA, Columbus GA, Macon GA, Savannah GA, Valdosta GA, Destin FL, Jacksonville FL, Orlando FL, Tallahassee FL, Tampa FL, Apex NC, Cary NC, Chapel Hill NC, Holly Springs NC, Raleigh NC, Wake Forest NC and many more.
---
Get Started – Shop Our Fences Now!
We know you're getting excited about your new fencing project, and we would love to help. You're just a click away from getting started! Our passion is the art of beautiful fences, and we can't wait to share that passion with you to create the dazzling fencing you've been dreaming of. Contact us today!
Email: info@fenceworkshop.com